"We all benefit from the bilingual heritage of our country and a rich and diverse publishing history"
Robert Wright, bookseller in Ontario and President of the Antiquarian Booksellers' Association of Canada, ABAC, spoke to ILAB about the upcoming fair after a longer pause due to the pandemic and a rare booksellers' life in Canada.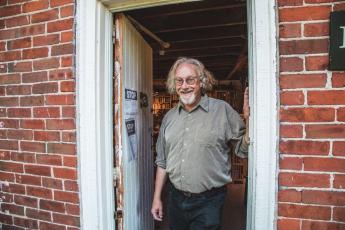 The Toronto Antiquarian Book Fair has just been announced after a longer pause during the pandemic. Please share some of your plans with us?
We look forward to returning to the exhibiting at a live in-person fair. The Art Gallery of Ontario has proven to be a wonderful venue for us. It is a beautiful building designed by renowned architect Frank Gehry. It is a major tourist destination, with important art collections and engaged members. I know we are all looking forward to seeing customers and colleagues, many of which we have not seen since early 2020 or previously. So the fair represents a big reunion for all of us who are exhibiting.
A Saturday night party will bring together members of the larger Toronto book community in a social setting. Our celebration will include librarians and archivists from the University of Toronto and York University, and we hope to see others from McGill University and elsewhere. We try to establish a social setting where we may all meet in a relaxed setting.

During the pandemic, you ran two virtual fairs under the FIRSTS brand, now you are back to in-person fairs. How did the dealers in Canada weather the pandemic?
We did one virtual fair, and Aimee Peak (editor's note: Aimee Peak of Bison Books was interviewed HERE ahead of the fair) is the authority on that. It was quite successful. Two important things occurred: we were able to work collaboratively with the Antiquarian Booksellers' Association in the UK, ABA, who graciously allowed us to use their FIRSTS ONLINE platform, and secondly, the virtual fair format allowed us the opportunity to run the fair as an ILAB sponsored event. We had nation-wide participation from ABAC members, as well as the participation of ILAB affiliates from many countries. Several of the ILAB affiliates experienced such good sales that they have expressed interest in exhibiting at an in-person Toronto Antiquarian Book Fair. This virtual fair experience encouraged the ABAC to return the Toronto Antiquarian Book Fair to an ILAB sponsored fair. The pandemic was hard on many booksellers in Canada, particularly those booksellers who run open shops dependent on foot traffic or tourism. Multiple lockdowns adversely impacted the businesses of these booksellers. Conversely, those booksellers who already had significant on-line presences often saw an increase to their business.

What excites you about your work? Please give us a glimpse into the life of an antiquarian bookseller in Canada?
Canada is an immense country. Life as an antiquarian bookseller here can mean many different things, with some ABAC Members running open shops in big cities, with others working from small towns or villages in the country, and perhaps dealing from home. Some of our members live on small islands off the coast of British Columbia. We all benefit from the bilingual heritage of our country and a rich and diverse publishing history. As we are a land of immigrants, many people have come here with interesting printed matter with them from their countries of origin. For myself, I am pleased to be able to feature works by Indigenous writers in my shop, and keep issues related to Truth and Reconciliation in the forefront of public consciousness.

When in Toronto and not visiting the fair, what other locations should we not miss out on?
For any book lover, The Thomas Fisher Rare Book Library is an outstanding stop. The exhibition space in their foyer is host to fascinating exhibits curated by Fisher Library staff. The most important collection of rare books and related materials in Canada is here. The special collections at the Clara Thomas Archives at York University Libraries also offers incredible research opportunities with their impressive and diverse holdings and knowledgeable staff.
Beaver Tails or Poutine? Caesar cocktails or rather a glass of wine and a book? Clichés aside, what do you regard as typical Canadian?
Typically Canadian: Hard to say what we have in common as Canada is a multicultural mosaic. However, I note we lean towards a socially aware and just society and I feel that Canadian booksellers really look out for each other, and that members of the Canadian antiquarian trade are very connected with each other, and meaningfully concerned with each others' welfare. It is a very friendly scene and comradery is the norm. We are hopeful people who are becoming more consciously engaged in addressing the wrongs of colonialism and our privilege.
The Toronto Antiquarian Book Fair 2022 runs from 4 - 6 November at the Art Gallery of Ontario. More information HERE or contact Robert Wright, chairman of the fair, directly via EMAIL.
Interview by Angelika Elstner