There's nothing like a wintry Canadian day to make one appreciate books and cozy bookstores!
The Canadian Antiquarian Booksellers' Association, ABAC, announced only a couple of weeks ago a new edition of the Toronto Antiquarian Book Fair. We spoke to Aimee Peak of Bison Books on selling books in Canada and a bookshop "near the largest Icelandic settlement outside Iceland". The Toronto Antiquarian Book Fair, an ILAB affiliated fair, will take place from 4 - 6 November 2022.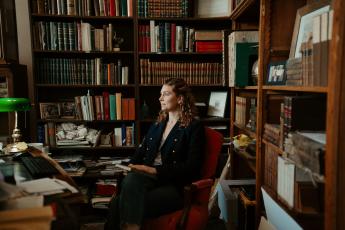 1) The Toronto Antiquarian Book Fair has just been announced after a longer pause during the pandemic. Please share some of your plans?

Walking through the galleries on route to the book fair, provides a wonderful intellectual warm-up and opportunity for meditative moments; the exhibition room we use is intimate but airy and bright, with a lot of natural light, and a view of the CN tower!
Within the first week, we have already received applications from dealers from Canada, the USA, and overseas: some new to the fair and some regular exhibitors from each camp. I am excited to mix business and pleasure, in renewing pre-pandemic relationships!
2) During the pandemic, you ran a virtual fair under the FIRSTS brand, now back to in-person fairs. How did the dealers in Canada weather the pandemic?

Canadian dealers seemed to fare quite well through the pandemic, with those selling online doing particularly well, and those who historically have relied chiefly on fairs having to shift focus for a while. For example, Wilfrid de Freitas started a "book a day" Facebook campaign, which is rumoured to have done quite well!
3) What excites you about your work? Please give us a glimpse into the life of an antiquarian bookseller in Canada?
There's nothing like a wintry Canadian day to make one appreciate books and cozy bookstores!
I love the adventure: I never know what will come in the door, or whose house I will visit, from one day to the next. My shop is in the city's downtown, the cast of characters is truly stranger than fiction, and the books I am offered from month to month are bogglingly numerous and range from truly impressive to truly ... not. I love the local history and culture and also the opportunity to travel and compare and commiserate with like-minded colleagues.
4) When in Toronto and not visiting the fair, what other locations should we not miss out on?
The local bookstores of course! I always prioritize a meal at Mother's Dumplings when I am in Toronto; and the AGO is a wonderful place to explore!
5) Beaver Tails or Poutine? Caesar cocktails or rather a glass of wine and a book? Clichés aside, what do you regard as typical Canadian?
All of the above! Just not at the same sitting. Canada is a huge country, with a lot of diversity and regionalism, which makes it hard to define "Typical" but perhaps that *is* what is typical about us!
My city, Winnipeg, is a gloriously remote "small-town" city, a six-hour drive from the nearest western metropolis, and a 24-hour drive from Toronto, the closest city to the East! I live on what we call "Treaty One Territory", Indigenous land. We are near the largest Icelandic settlement outside Iceland, have a vibrant French community, and boast large populations of Ukrainians and Mennonite settlers, all of whom have left their stamp on local culture. Our small city is a cultural breeding ground, with great art, music, restaurants, and two universities: what else would we do all winter?
The Toronto Antiquarian Book Fair, an ILAB affiliated fair, will take place from 4 - 6 November 2022. More information HERE