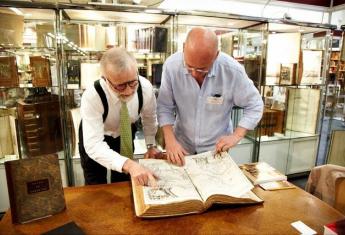 ILAB International Book Fairs
Under the Auspices of ILAB: A Worldwide Network of Rare Book Fairs
A well established calendar of international rare book fairs taking place throughout the year in Europe, North America, Asia and Australia, offers book collectors and the world's leading experts of the rare book trade a place to share their passion for the printed book and our written heritage.
Under the auspices of the International League of Antiquarian Booksellers (ILAB) and organized by ILAB's member associations, international fairs are organised from London and Paris to New York and Los Angeles, Tokyo or Melbourne. All exhibitors are affiliated to ILAB and adhere to ILAB's strict Code of Usages and Customs requiring books and related material to be accurately and professionally described and to guarantee the authenticity and genuineness of all material for sale.
ILAB rare book fairs have a long tradition, the first book fair was set up in London in 1958 by the Antiquarian Booksellers' Association. Since those days, these fairs have been highly esteemed events. Whether you are an experienced or novice book collector, a librarian or archivist, a scholar or an academic, or are simply interested in books and the book arts in general, this is your chance to find something to your taste.
A small number of fairs (such as Zurich or Toronto) or collective stands (Vienna), are not officially endorsed by ILAB but organised by ILAB's member associations. These events guarantee the same standards as all other fairs in the ILAB network and are listed here for completeness.
SAVE THE DATES - CHECK ILAB FAIR CALENDAR
The annual fair calendar was disrupted by the COVID pandemic in 2020/21 and some fairs changed dates and venues.
We recommend to check the ILAB website for the regularly updated international fair calendar HERE.

---



All ILAB Rare Book Fairs Worldwide


America
California Antiquarian Book Fair
alternating between Los Angeles / Pasadena and San Francisco, US
>>>
New York International Antiquarian Book Fair, US
>>>
Boston International Antiquarian Book Fair, US
>>>
Toronto International Antiquarian Book Fair, Canada
>>>


Europe

Salone della Cultura Milan, Italy
>>>
Stuttgart Rare Book Fair, Germany
>>>
Salon International du Livre Rare Paris, France
>>>
Firsts London, United Kingdom
>>>
Chelsea Rare Book Fair London, United Kingdom
>>>
Salon du Mont des Arts Brussels, Belgium
>>>
Amsterdam International Antiquarian Book Fair, Netherlands
>>>
Madrid International Antiquarian Book Fair, Spain
>>>
Stockholm Antiquarian Book Fair, Sweden
>>>


Asia
Tokyo Antiquarian Book Fair, Japan
>>>


Australia
Sydney Antiquarian Book Fair
>>>
Melbourne Antiquarian Book Fair & Book Week
>>>
AMOR LIBRORUM NOS UNIT.