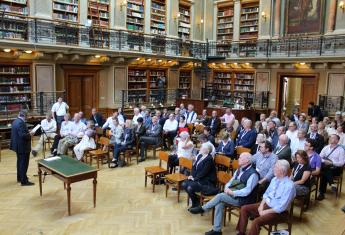 ILAB Congresses, Symposia & Presidents' Meetings
The 2022 ILAB Congress in Oxford was an unforgettable event.


For impressions and to read some reports from the Oxford Congress 2022 - Visit our NEWS section here.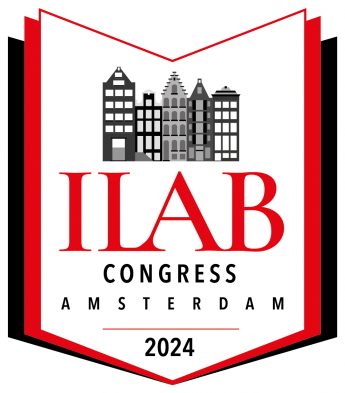 Amsterdam 2024


The next congress will take place from 14 - 18 October 2024 in Amsterdam.
ILAB booksellers will be notified as soon as registration opens; don't be late and book your place to avoid disappointment, the Oxford Congress was quickly booked out.

See you in Amsterdam in '24!




ILAB Congresses - International flagship events for the rare book trade
Since 1948, the League and its member associations have organized congresses which now take place every two years at a different location worldwide and are a wonderful opportunity for ILAB affiliated booksellers to network but also learn about the literary and cultural heritage of the hosting nation.
Budapest, Amsterdam, Copenhagen, London, Los Angeles, Vienna, Tokyo, Munich, New York, Madrid, Los Angeles, Montréal, Melbourne, Paris, Bologna... booksellers have travelled the world and have been welcomed to libraries, private collections, national treasures and been given access to scholars and experts and built long-term business relations as well as lasting friendships.
Congresses and fairs are open to all booksellers affiliated to the League and will be announced through the League at least one year in advance of the congress.


ILAB Presidents' Meetings (General Annual Meeting)
The presidents of the 22 national associations affiliated to the League meet once a year at the General Meeting, each year in a different country. The General Meeting (or Presidents' Meeting) is the supreme governing body of the League.
The ILAB Committee meets once a year. Its task is to manage the affairs of the League and to put into practice the decisions taken at the General Meeting.

Due to the COVID pandemic, the 2020 and again the 2021 meeting were held as a virtual meeting. Presidents of each national association report back to their membership after the ILAB Presidents' Meeting.
The 2022 ILAB Presidents' Meeting took place in September in Oxford ahead of the ILAB Congress.

The next ILAB Presidents' Meetings is scheduled to take place in September 2023 in Stockholm.
Les congrès de la LILA - des événements majeurs internationaux pour le commerce des livres rares
Depuis 1948, la Ligue et ses associations membres organisent des congrès qui ont désormais lieu tous les deux ans dans un lieu différent à travers le monde. Ces congrès sont une merveilleuse occasion pour les libraires affiliés à la LILA de nouer des contacts, mais aussi de découvrir le patrimoine littéraire et culturel du pays hôte. Budapest, Amsterdam, Copenhague, Londres, Los Angeles, Vienne, Tokyo, Munich, New York, Madrid, Los Angeles, Montréal, Melbourne, Paris, Bologne... les libraires ont parcouru le monde et ont été accueillis dans des bibliothèques, des collections privées, des trésors nationaux et ont eu accès à des érudits et des experts et ont construit des relations commerciales à long terme ainsi que des amitiés durables. Les congrès et les foires sont ouverts à tous les libraires affiliés à la Ligue et seront annoncés par la Ligue au moins un an avant le congrès.



RÉUNIONS DES PRÉSIDENTS DE LA LILA (ASSEMBLÉE GÉNÉRALE ANNUELLE)
Les présidents des 22 associations nationales affiliées à la Ligue se réunissent une fois par an lors de l'assemblée générale, chaque année dans un pays différent. L'Assemblée Générale (ou Réunion des Présidents) est l'organe de direction suprême de la Ligue.
Le Comité de la LILA se réunit une fois par an. Il a pour mission de gérer les affaires de la Ligue et de mettre en œuvre les décisions prises lors de l'Assemblée générale.
En raison de la pandémie de COVID, la réunion de 2020 et à nouveau celle de 2021 se sont tenues sous forme de réunion virtuelle. Les présidents de chaque association nationale font rapport à leurs membres après la réunion des présidents de la LILA.
La réunion de 2022 a eu lieu à Oxford, avant le congrès de la LILA de 2022.
La prochaine Réunion des Présidents de la LILA est prévue en septembre 2023 à Stockholm.