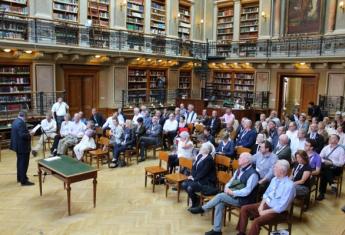 ILAB Congresses, Symposia & Presidents' Meetings

ILAB Congresses - International flagship events for the rare book trade
Since 1948, the League and its member associations have organized congresses which now take place every two years at a different location worldwide and are a wonderful opportunity for ILAB affiliated booksellers to network but also learn about the literary and cultural heritage of the hosting nation.
Budapest, Amsterdam, Copenhagen, London, Los Angeles, Vienna, Tokyo, Munich, New York, Madrid, Los Angeles, Montréal, Melbourne, Paris, Bologna... booksellers have travelled the world and have been welcomed to libraries, private collections, national treasures and been given access to scholars and experts and built long-term business relations as well as lasting friendships.
Congresses and fairs are open to all booksellers affiliated to the League and will be announced through the League at least one year in advance of the congress.


ILAB Congress Oxford from 9 - 13 September 2022
ILAB and the ABA welcome the booksellers of the world at the 44th ILAB Congress from 9 - 13 September 2022.
After Bologna in 2010, Switzerland in 2012, Paris in 2014, Budapest in 2016, Los Angeles / Pasadena in 2018, booksellers will meet next in 2022, when the Antiquarian Booksellers' Association (UK) is inviting colleagues to the beautiful city of Oxford with its rich history in printing and publishing, its libraries and bookshops, private estates and book collections, academic culture and warm hospitality.

Congresses are an ideal opportunity to provide a platform to network and for professional debate. The Congress 2022 will be supported by a one day Symposium on 14 September at Oxford's Weston Library, recently reopened after extensive renovations and home of the Bodleian Library's Special Collections.
The 18th ILAB Breslauer Prize for Bibliography, the world's leading and most distinguished prize in the field of bibliography will be awarded during the ILAB Symposium on 14 September 2022.
The congress is now fully booked. If you wish to add your name to the waiting list, please do get in touch with the organising team.
ILAB will run live updates from the congress. Check out our social media!
Bookings for the ILAB Symposium are open and not linked to congress. Please email the ILAB Secretariat if you wish to register.
More information further below.



2022 Congress Programme

The Bodleian Library, Waddesdon Manor and Wormsley's library of Sir Paul Getty, college libraries and archives, Oxford museums: View the full programme HERE

All information about congress: www.ilab2022.com
Queries: [email protected] or send an email to the ILAB Secretariat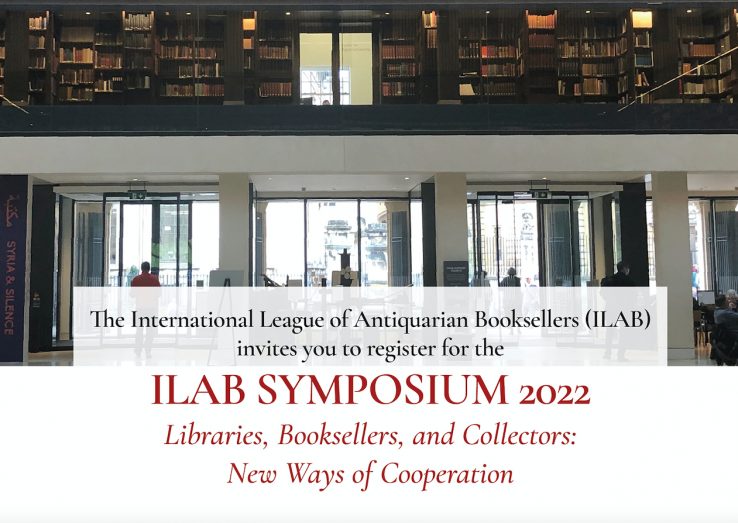 Book your seat at the 2022 ILAB Symposium:
Libraries, Booksellers, and Collectors: New Ways of Cooperation
Wednesday, 14 September 2022; 10h – 17h
Weston Library (Bodleian Libraries), Oxford
Session 1
Where do books belong? Competition & Cooperation between Private and Institutional Collecting
Session 2
Changes & Challenges: Navigating the tricky waters of the international movement of antiquarian books in the 2020s
Session 3
Collaboration, Communication, Transparency: Security affects all
Session 4
Awards Ceremony of the 18th Breslauer Prize for Bibliography 2022
To view the full programme and list of international speakers, please >> follow this link

Tickets at GBP25 are limited and subject to availability.
The Symposium will be held the day after the 2022 ILAB Congress; bookings are handled separately.
Please register your interest with the ILAB Office: [email protected]
Registrations are open to all booksellers, librarians and bibliophiles.
ILAB Presidents' Meetings (General Annual Meeting)

The presidents of the 22 national associations affiliated to the League meet once a year at the General Meeting, each year in a different country. The General Meeting (or Presidents' Meeting) is the supreme governing body of the League.
The ILAB Committee meets once a year. Its task is to manage the affairs of the League and to put into practice the decisions taken at the General Meeting.

Due to the COVID pandemic, the 2020 and again the 2021 meeting were held as a virtual meeting. Presidents of each national association report back to their membership after the ILAB Presidents' Meeting.

The next ILAB Presidents' Meetings are scheduled to take place in September 2022 in Oxford and in September 2023 in Stockholm.



OXFORD ACCUEILLE LES LIBRAIRES DU MONDE ENTIER AU 44E CONGRÈS DE LA LILA DU 9 AU 13 SEPTEMBRE 2022
Après Bologne en 2010, la Suisse en 2012, Paris en 2014, Budapest en 2016, Los Angeles / Pasadena en 2018, les libraires se retrouveront en 2022, lorsque l'Association des libraires anciens (Royaume-Uni) invitera ses collègues dans la belle ville d'Oxford, avec sa riche histoire dans le domaine de l'impression et de l'édition, ses bibliothèques et ses librairies, ses domaines privés et ses collections de livres, sa culture universitaire et son hospitalité chaleureuse.
Le congrès est également un lieu de débat et sera soutenu par un symposium LILA d'une journée à la Weston Library d'Oxford, récemment rouverte après d'importants travaux de rénovation et abritant les collections spéciales de la Bodleian Library.
Le 18e prix LILA Breslauer pour la Bibliographie, le prix le plus important et le plus distingué au monde dans le domaine de la bibliographie, sera décerné pendant le congrès de 2022.
PROGRAMME DU CONGRÈS 2022
La Bodleian Library, Waddesdon Manor et la bibliothèque Wormsley de Sir Paul Getty, les bibliothèques et archives des collèges, les musées d'Oxford : Voir le programme complet ICI
Toutes les informations sur le congrès : www.ilab2022.com
Pour toute question : [email protected] ou le secrétariat de la LILA
LE CONGRÈS EST COMPLET / INSCRIPTIONS SÉPARÉES POUR LE COLLOQUE LILA
Le congrès est désormais complet. Si vous souhaitez ajouter votre nom à la liste d'attente, veuillez prendre contact avec l'équipe organisatrice.
La LILA publiera des mises à jour en direct du congrès. Consultez nos médias sociaux !
Colloque LILA 2022
Veuillez noter que les réservations pour le Colloque LILA (14 septembre) ne sont pas liées au congrès.
Le programme complet peut être consulté ici. Veuillez contacter le secrétariat de la LILA pour les réservations.
RÉUNIONS DES PRÉSIDENTS DE LA LILA (ASSEMBLÉE GÉNÉRALE ANNUELLE)
Les présidents des 22 associations nationales affiliées à la Ligue se réunissent une fois par an lors de l'assemblée générale, chaque année dans un pays différent. L'Assemblée Générale (ou Réunion des Présidents) est l'organe de direction suprême de la Ligue.
Le Comité de la LILA se réunit une fois par an. Il a pour mission de gérer les affaires de la Ligue et de mettre en œuvre les décisions prises lors de l'Assemblée générale.
En raison de la pandémie de COVID, la réunion de 2020 et à nouveau celle de 2021 se sont tenues sous forme de réunion virtuelle. Les présidents de chaque association nationale font rapport à leurs membres après la réunion des présidents de la LILA.
Les prochaines réunions des présidents de la LILA sont prévues en septembre 2022 à Oxford et en septembre 2023 à Stockholm.