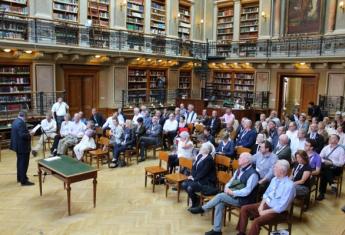 ILAB Congresses & Presidents' Meetings

ILAB Congresses - International flagship events for the rare book trade
Since 1948, the League and its member associations have organized congresses which now take place every two years at a different location worldwide and are a wonderful opportunity for ILAB affiliated booksellers to network but also learn about the literary and cultural heritage of the hosting nation.
Budapest, Amsterdam, Copenhagen, London, Los Angeles, Vienna, Tokyo, Munich, New York, Madrid, Los Angeles, Montréal, Melbourne, Paris, Bologna... booksellers have travelled the world and have been welcomed to libraries, private collections, national treasures and been given access to scholars and experts and built long-term business relations as well as lasting friendships.
Congresses and fairs are open to all booksellers affiliated to the League and will be announced through the League at least one year in advance of the congress.


We welcome all ILAB booksellers to the 44th ILAB Congress in Oxford from 9 - 14 September 2022

After Bologna in 2010, Switzerland in 2012, Paris in 2014, Budapest in 2016, Los Angeles / Pasadena in 2018, booksellers will meet next in 2022, when the Antiquarian Booksellers' Association (UK) is inviting colleagues to the beautiful city of Oxford with its rich history in printing and publishing, its libraries and bookshops, private estates and book collections, academic culture and warm hospitality.

The congress is also a place for debate and will be supported by a one day ILAB Symposium at Oxford's Weston Library, recently reopened after extensive renovations and home of the Bodleian Library's Special Collections.
The 18th ILAB Breslauer Prize for Bibliography, the world's leading and most distinguished prize in the field of bibliography will be awarded during the Congress in 2022.
Registrations for the 2022 Congress will open in December 2021. For any further information, please contact the ILAB Secretariat.

ILAB Presidents' Meetings (General Annual Meeting)

The presidents of the 22 national associations affiliated to the League meet once a year at the General Meeting, each year in a different country. The General Meeting (or Presidents' Meeting) is the supreme governing body of the League. The ILAB Committee meets once a year. Its task is to manage the affairs of the League and to put into practice the decisions taken at the General Meeting.
Due to the COVID pandemic, the 2020 and again the 2021 meeting was and will be held as a virtual meeting. Presidents of each national association report back to their membership after the ILAB Presidents' Meeting.