End of Year 2021 - Welcome to some new booksellers in the ILAB community Part 9 of 9: Yarran L. Jenkins of The Book Merchant Jenkins, West End QLD – Australia
As the year draws to an end, we look back at 2021 and we spoke to a selection of booksellers who joined the ILAB community in the course of last year.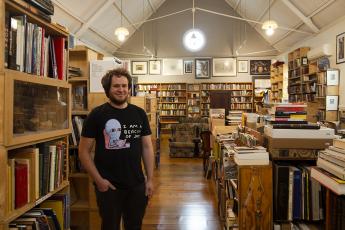 What triggered your interest in rare books and becoming a rare bookseller?
Ever since I was a child I enjoyed the peace I found in the library and the mystery evident to me from the sheer volume of experience contained within books I would never understand. As a youngling I first collected music, then in my teens books took over. A couple of years on and with overflowing shelves I read a little about selling books, it all made sense, so I started doing it.
What do you deal in?
Quality books in all genres. I also handle a bit of art, mostly contemporary surreal and figurative material. I am open to most things technical, beautiful, or unusual.
Do you specialise?
I focus on sexuality, LGBTIQ+, ethnopharmacology, dance, performance, and art.
What object would you love most to handle one day?
Not necessarily a singular object but I would love to handle more archives and collections of unique material in my focus areas. Also, double elephant folios.
When the world opens up again, where will you go?
Japan.