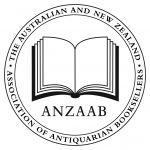 The Australian and New Zealand Association of Antiquarian Booksellers (ANZAAB)
Address

PO Box 7009
Doncaster East
VIC 3109
Australia

Email

Website

President

Douglas Stewart

Association Phone

President Email

President Address

Douglas Stewart Fine Books
720 High Street
Armadale VIC 3143
Australia
The Australian and New Zealand Association of Antiquarian Booksellers (ANZAAB) was founded in 1977 and has been a member association of ILAB since 1978.
ANZAAB aims to promote antiquarian bookselling and collecting. Like many national associations it sets out standards of commercial behaviour to which its members voluntarily adhere. ANZAAB encourages the observance of the courtesies and honourable practices traditionally associated with the trade, and in particular seeks to encourage booksellers to achieve high standards of accuracy in descriptions of materials offered for sale.
Membership is open to booksellers from Australia and New Zealand and from countries where no ILAB-affiliated association exists and who have, for a certain number of years, been engaged full-time in buying and selling valuable and significant books and/or related material, and who are recognised for their expertise and good name.
ANZAAB organizes book fairs in the major Australian cities Melbourne and Sydney.
ANZAAB publishes a regular newsletter, edited by Dawn Albinger of Archives Fine Books. (PDF-copies of the newsletter can be ordered by request). The newsletter and website www.anzaab.com, provide book collectors with interesting information about the activities of the trade in Australia and New Zealand and book collecting in general.
From 2000 to 2002 ANZAAB member Kay Craddock was the first female president in the history of ILAB. At the Delaware Presidents Meeting 2006, she was unanimously elected ILAB President of Honour, a designation awarded to those who have provided service to the League beyond that of the normal course of their duties. Paul Feain was a long-time member of the ILAB Committee serving as General-Secretary and Treasurer.
Australians continue to be active in the international antiquarian book arena. Sally Burdon joined the ILAB Committee in 2014, was elected Vice-President in 2016 and currently acts as ILAB President since her election at the ILAB Presidents' Meeting in Pasadena in 2018.
Book Fairs
The Melbourne Rare Book Fair is held annually, for details please see details at rarebookfair.com

Rare book fairs are also held from time to time in Sydney, please see details at sydneyrarebookfair.com

Annual Meeting
July (at the time of the ANZAAB Melbourne Rare Book Fair)
Board
Douglas Stewart, President
Dawn Albinger, Vice-President
Dafydd Davies, Secretary
Sue Treloar, Treasurer
Tim White, Board Member
Yarran Jenkins, Board Member
Tom Baker-Stimson, Board Member
Life Members
Susan Tompkins
Honorary Members

Paul Brunton
Wallace Kirsop
Des Cowley
Richard Overell
Jerelynn Brown

ILAB Patrons of Honour
Barry Humphries
David Malouf
The Australian and New Zealand Association of Antiquarian Booksellers - Most recent News