"As a trade association, we have a wealth of knowledge and experience amongst our members that is second to none"
Deborah Coltham: New president of the Antiquarian Booksellers' Association in the UK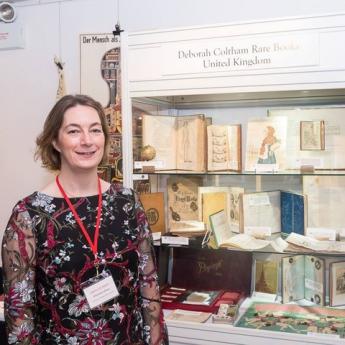 Well-known bookseller and highly engaged supporter of the trade, Deborah Coltham will now steer the ship for the ABA for the coming two years.

After graduating from St Andrews University in 1994 with an MA in English Literature and Medieval History, Deborah joined Pickering & Chatto Ltd as an apprentice to the Head of the Science and Medicine Department, subsequently taking over the role in 1998. She established Deborah Coltham Rare Books in July 2006 and continues to specialise in a wide range of scientific and medical subjects, with books by or about women being a particular area of interest. She has worked closely with major libraries, institutions and individual collectors both in the UK and worldwide. Deborah has been part of the ABA National Council since 2017, for many years in the role of Membership Secretary and Vice-President. Besides her role as president of the ABA, Deborah organises and sits on the judging panel of the ABA National Book Collecting Prize, and is a faculty member of the annual York Annual Antiquarian Book Seminar.

In September 2022, Deborah played a key role in running our very successful 2nd ILAB Symposium at the Bodleian Library's Weston Library, moderating the event.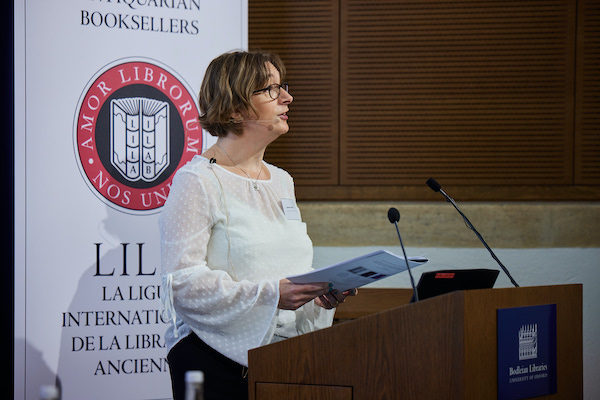 In a recent letter to members, Deborah looks back at the past few - stormy - years, when the book trade had to weather the unprecedented pandemic and many changes and challenges resulting from it.

It is with immense pride that I write to you in my new capacity as ABA President, having been elected to take over the role from Pom Harrington at the AGM last Wednesday. I am delighted that Bernard Shapiro was duly elected as Vice President, and that Daniel Crouch was happy to remain in post as Treasurer.
I am fortunate to be taking over the role in much calmer waters than in 2021. Pom has worked tirelessly on behalf of the ABA, not only during his Presidency, but for many years, and the trade as a whole has benefitted enormously from his forward thinking, dedication and dynamism. Thank you, Pom, for all that you have done, and all that you will no doubt continue to do on behalf of the rare book trade, and more formally in your role as the Chair of Firsts London. I have a hard act to follow!
Thanks too, must go to Daniel, whose fiscal prudence, and the triumphant ILAB Congress, means that we find ourselves in a more stable position than for some time. Especial thanks to Riley Grant: the number of personal tributes paid to her within the recent annual reports is a clear testament to how much we all rely on her, and the excellent job she does on our behalf as the first point of call for the Association.
May I also take the opportunity to thank Roger Treglown, who has stepped down from Council. First elected in 2000, he has taken on a number of roles, culminating in his Presidency from 2019-2021. The pandemic made for a challengingly two years and denied him an official hand-over to Pom, and so it was good that we could offer him our thanks and appreciation in person last Wednesday. Angus O'Neill is also stepping away from his advisory role on the Management Committee after several years. Recently elected as Vice President of ILAB, alongside Christopher Bailey as ILAB Treasurer, their roles ensure that the ABA will retain its prominent position internationally.

As a trade association, we have a wealth of knowledge and experience amongst our members that is second to none, and which forms the bedrock of the Association. We have a growing number of dealers setting out on their own, or gaining experience in established firms, and who bring with them new ideas and ways of connecting with customers. A number of those entering the Association are graduates of YABS, the brainchild of Anthony Smithson and Alice Laverty of Keel Row Books, with fellow director Jonathan Kearns. Now under the aegis of the ABA Educational Trust, I am sure that it will no doubt continue to prove to be an invaluable conduit for potential new members of the future.

Turning to book fairs, which are so vital and important to many of us, thanks to all who exhibited at Edinburgh. As always, it was pleasure to visit, albeit fleetingly, and it was good to see a steady stream of visitors, and the number of younger collectors in evidence which was encouraging to see. ...
So many members quietly work behind the scenes to help promote the Association, for which many thanks. It does not go unnoticed if perhaps not always trumpeted.

We have many wise heads and smart business brains sitting on Council, who represent the many facets of the book trade from several parts of the country, including sole traders working from home, smaller independent shop owners, long-established family firms, and larger, globally recognised companies. All care passionately about our trade and are extremely active and motivated. I may be the visible spokesperson for the next two years, but it is very much a collective effort, and we are all looking forward to the months ahead.
Deborah Coltham
ABA President