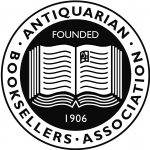 Antiquarian Booksellers' Association (ABA)
Address

21 John Street,
London WC1N 2BF
United Kingdom

Email

Website

President

Pom Harrington

Association Phone

President Email

President Address

100 Fulham Road
London SW3 6HS
United Kingdom
+44 (0)20 7591 0220
Founded in 1906 and the oldest organisation of its kind in the world, the Antiquarian Booksellers Association is the senior trade body for dealers in antiquarian and rare books, manuscripts and allied materials in the British Isles. Members are elected to the ABA solely on the basis of proven experience, expertise and integrity. They are required to observe the highest professional and ethical standards. The display of the Associations badge pledges members to: the authenticity of all material offered for sale the expert and proper description of all such material the disclosure of all significant defects or restorations the clear, accurate and professional pricing of all material the fairness and honesty of offers to purchase. For the last forty years, the Association has run a small number of high quality book fairs. At present there are two major fairs each year. Firsts London is held in June, and the Chelsea Book Fair takes place in Chelsea Old Town Hall during November. Smaller fairs are held in Edinburgh and Bristol, in concert with the PBFA. The Association also provides a Benevolent Fund for charitable use to help all UK antiquarian booksellers and their dependants, and also for educational purposes.
President

Pom Harrington
Vice President
Deborah Coltham
Treasurer
Daniel Crouch
Immediate Past President
Roger Treglown
Council
Jenny Allsworth (Allsworth Rare Books), Simon Beattie, Michael Graves -Johnston, James Hallgate (Lucius Books), Thomas Heneage (Thomas Heneage Art Books), Ed Maggs (Maggs Bros Ltd), Tom Lintern-Mole (Antiquates Ltd), Sophie Schneideman (Sophie Schneideman Rare Books and Prints), and Bernard Shapero (Shapero Rare Books Ltd).
Company Secretary
Riley Grant
Book Fairs
Firsts London, the ABA's summer fair, is the oldest and one of the most important fairs of the rare book trade, taking place in London in June, while the Chelsea Book Fair fair takes place in November.
Further Reading
>> THE ABA AND THE INTERNATIONAL LEAGUE OF ANTIQUARIAN BOOKSELLERS by the late Anthony Rota
>> ABA HISTORY 1906-1984 (Part 1)
>> ABA HISTORY 1906 - 1984 (Part 2)
>>> Half a League Onward. By Percy H. Muir
>>> International League Conference - London 1956
>> "NEW TRENDS IN THE INTERNATIONAL ANTIQUARIAN BOOK TRADE" - LECTURE GIVEN AT THE 30TH ILAB CONGRESS IN TOKYO 1990 BY ANTHONY ROTA
>>> A Life for Rare Books - W.R. Bill Fletcher 1906-1996
>>> Alan Shelley (1941 - 2009)
>>> History of the London International Antiquarian Book Fair - Founded in 1958. By Keith Fletcher

>>> Insider Collecting - A talk given by Keith Fletcher to The Private Libraries Association
>>> A working life: The rare-book dealer - Ed Maggs

>>> Sotherans: 250 Years of Bookselling
>>> Sheila Markham - A Book of Booksellers
Antiquarian Booksellers' Association in the News