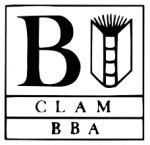 Chambre Professionelle Belge de la Librairie Ancienne et Moderne / Belgische Beroepskamer van Antiquaren (CLAM/BBA)
Address

8 Galerie Bortier
B-1000 Brussels
Belgium

Email

Website

President

Pierre Coumans

Association Phone

President Email
The Chambre Professionelle Belge de la Librairie Ancienne et Moderne (CLAM) or Belgische Beroepskamer van Antiquaren (BBA) was founded in 1946 and has been an ILAB member from the beginnings in 1948. With Pierre Coumans as current president, it counts 29 rare book dealers from Antwerp, Bruges, Brussels, Comines, Ghent, Hasselt, Hatrival, Lie, Malines, Mouscron, Namur and Ulbeek, as well as foreign associated members. They are specialized in buying and selling precious books, prints, autographs, ancient and modern manuscripts. All members are bound by the code of conduct of the ILAB based on a wide experience.
The ILAB Breslauer Prize of Bibliography: Founded in the early days of the League Georges A. Deny (Brussels) was appointed as the first Secretary, laid down the ground rules and supervised the first and second awards. From 1960 to 1965 Deny was also ILAB president. After Amsterdam, Copenhagen, London and Paris the 4th ILAB Congress took place in Brussels in 1951. This was not the last time the Presidents and the ILAB affiliates were invited to Belgium. In 1963 the CLAM/BBA organized the 16th ILAB Congress, followed by two Presidents Meetings in 1976 and 1995.

The Belgian Association is also a member of the Union Belgo-Luxembourgeoise du Marchde l'Art (UBEMA), an organization of the professional associations of art dealers in Belgium and Luxemburg, that defends their common interests (www.ubema.org).
President
Pierre Coumans

Term of office
3 years

Committee

Dominique Basteyns, Vice-President
Rob Camp, Vice-President & Treasurer
Brigitte Harcq, Secretary

Honorary Presidents
Raoul Simonson
Florimond Tulkens
Louis Moorthamers
M. Wastiau
Jacques Van der Heyde
Claude Van Loock
Eric Speeckaert

Annual Book Fair
June
More information
>>> Georges A. Deny about the ILAB Breslauer Prize for Bibliography
Chambre Professionelle Belge de la Librairie Ancienne et Moderne / Belgische Beroepskamer van Antiquaren - Most recent News