Brussels Rare Book Fair 2020 Cancelled
The Belgian Antiquarian Booksellers Association has informed ILAB that the 2020 edition of the Brussels Rare Book Fair will not take place.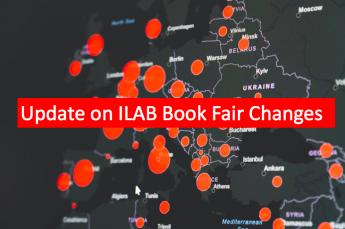 The 2020 Brussels Rare Book Fair has been cancelled. See note from the president of the Belgian Antiquarian Booksellers Association, Pierre Coumans; 20 April 2020:
"I am sad to announce that the Belgian Antiquarian Booksellers' Association has decided to cancel the Salon du Mont des Arts this year.

The fair is postponed until June next year.

The safety of our visitors and our exhibitors is our utmost priority.

Due to the continued uncertainty over how long the prohibitions associated with Covid19 will continue, we all felt that a decision had to be made. A book fair is not an event that is thrown together over a few days, it requires months of planning, preparation and promotion in order to be successful.
Best regards,

Pierre Coumans
Chambre Professionelle Belge de la Librairie Ancienne et Moderne / Belgische Beroepskamer van Antiquaren
Après concertation et conformément aux prescriptions du Gouvernement belge, la Chambre professionnelle belge de la Librairie ancienne et moderne (CLAM) est au regret de devoir annuler l'édition 2020 du Salon du Mont des Arts qui devait se tenir les 18, 19 et 20 juin prochains à Bruxelles.
Votre santé ainsi que le succès de cet évènement sont nos priorités, la terrible crise sanitaire que nous traversons ne nous permet pas de les garantir.
Un salon ne s'improvise pas et il nous est impossible de l'organiser dans de bonnes conditions.

La fin du confinement n'est pas pour tout de suite et trop de questions subsistent sur « l'après »… La circulation des personnes sera difficile pendant de longues semaines, la distanciation sociale devra subsister pendant longtemps encore, la crainte subsistera chez beaucoup (y compris chez nos clients).

Le Salon du Mont des Arts est donc reporté à juin 2021.
Pierre Coumans
Chambre Professionelle Belge de la Librairie Ancienne et Moderne / Belgische Beroepskamer van Antiquaren