"Direct contact with books remains the best way to create new vocations"
Speaking to Jean-Marc Dechaud, new President of the SLAM, the French antiquarian booksellers' association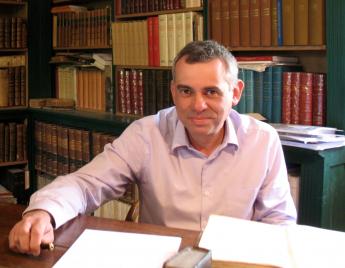 Jean-Marc, congratulations on your appointment as President of SLAM. Please give us a little background about yourself and your background in the trade?
I was born into a family of bibliophiles and was made aware of antiquarian books from an early age. I made my first significant purchase, a 16th century edition of Dante, when I was only 15 years old, spending all my savings, and since then the passion for antiquarian books has never left me. Like many of us, I had another profession before becoming a bookseller in 1998. I was then an engineer in a large French company but my consuming passion led me to give up this career and I chose to create an antiquarian bookshop in a small village of Touraine with beautiful Renaissance houses. From the start I specialised in 16th and 17th century books, the Renaissance being for me a particularly fascinating period in terms of ideas, beautiful editions and creative bindings. Since then I have published more than 50 catalogues, all of which contain a significant proportion of works on humanism and the Renaissance.


Jean-Marc, félicitations pour votre nomination au poste de président du SLAM. Pouvez-vous nous donner un bref aperçu de vous-même et de votre parcours dans le métier ?

Je suis né dans une famille de bibliophiles et j'ai été sensibilisé dès mon plus jeune âge au livre ancien. J'ai fait mon premier achat significatif, une édition de Dante du XVIe siècle alors que je n'avais que 15 ans en dépensant toutes mes économies et depuis la passion du livre ancien ne m'a plus quittée. Comme beaucoup d'entre nous, j'ai exercé une autre profession avant de devenir libraire en 1998. J'étais alors ingénieur dans une grande entreprise française mais ma passion dévorante me conduisit à renoncer à cette carrière et je choisis alors de créer une librairie ancienne dans un petit village de Touraine aux belles maisons Renaissance. Je me spécialisai dès le début dans les ouvrages des XVIe et XVIIe siècles, la Renaissance étant pour moi une période particulièrement fascinante tant sur le plan des idées que pour la beauté des éditions et la créativité des reliures. Depuis j'ai publié plus de 50 catalogues de livres anciens qui contiennent tous une part significative d'ouvrages sur l'humanisme et la Renaissance.

The past two years were exceptional for every bookseller in the ILAB network. How would you describe the rare book trade in France coming out of the pandemic?
The last two years have been very special because of the pandemic. Some colleagues have been adversely affected by the temporary closure of their shops, but on the whole the profession has fared well. Indeed, customers did not stop buying old books, and I would even say that many of us felt an increased interest in books during this period. We are all used to selling by mail order, and even if direct sales at fairs and in shops have slowed down, mail order sales have been strong. To compensate for shop closures, we at SLAM had set up "e-Salons" which allowed our members to present two or three times a year singular works at virtual events instead of fairs, and monthly "e-Rendezvous" in which everyone could exhibit and sell a few selected works. These new ideas were successful both with the booksellers and the customers who followed these events with interest. This year we have decided not to renew the monthly e-Rendezvous, which were no longer justified, but we have kept the "e-Salons" which still attract many customers.
Les deux dernières années ont été exceptionnelles pour tous les libraires du réseau LILA. Comment décririez-vous le commerce du livre rare en France au sortir de la pandémie ?
Les deux dernières années, ont été très particulières, du fait de la pandémie. Certains confrères ont été pénalisés par la fermeture temporaire de leur boutique, mais dans l'ensemble la profession a tiré son épingle du jeu. En effet les clients n'ont pas pour autant cessé d'acheter des livres anciens, et je dirai même que nous sommes nombreux à avoir ressenti un surcroit d'intérêt pour le livre durant cette période. Nous sommes tous habitué à vendre par correspondance, et même si la vente directe sur les salons et dans les boutiques a marqué le pas, les ventes par correspondance ont enregistré un rythme soutenu. Pour compenser les fermetures de boutique, nous avions mis en place au SLAM des "e-salons" qui permettaient à nos membres de présenter deux à trois fois par an des ouvrages singuliers lors d'événements virtuels en remplacement des foires, et des "e-rendez-vous" mensuels dans lesquels chacun pouvait exposer et vendre quelques ouvrages choisis. Ces nouveaux moyens ont rencontré un certain succès tant auprès des libraires que de la clientèle qui a suivi ces manifestations avec intérêt. Cette année nous avons décidé de ne pas renouveler les e-rendez-vous mensuels qui ne se justifiaient plus, mais nous avons conservé les "e-salons" qui attirent encore de nombreux clients.

What challenges do you see in the trade but also what possibilities ?
As far as the return to normality is concerned, it is obvious that the pandemic has left its mark on people's minds. And some traders have become accustomed to selling in a different way, especially on the Internet. The return to the shops and trade fairs is proving to be complicated: the pandemic is not yet completely behind us and other habits have been adopted, particularly by customers. Therefore, the number of visitors to salons has not returned to the level of the years before the pandemic, and the same is true for shops. However, I do not believe that this model is outdated. Some customers have lost the habit of crossing the threshold of a bookshop or coming to a book fair, but new customers have become interested in antiquarian and collectible books during the pandemic and will one day have the desire to see and hold books to make their choice. I think that attendance at fairs will gradually return to normal and that booksellers should not be discouraged but should instead encourage customers to attend again, convincing them that this is still the best way to make exciting discoveries while benefiting from the advice of professionals.

Over time, we have all noticed that Internet sales have continued to grow while the number of people visiting bookshops has fallen. For my part, I believe that we must be careful to rebalance our sales methods: abandoning book fairs and shops would ultimately be a mistake. Mail order sales ensure the financial sustainability of our businesses in the short term, but they are not the best way to educate and train new customers. Trade fairs, such as the one organised annually by SLAM, allow a great many people to see and touch books, some of whom will be tomorrow's customers. We also have the opportunity at these events to demonstrate our skills and ability to guide our customers in building their collections. We must collectively work to attract new clients and ensure the continuity of our profession in the future. The new tools at our disposal must not make us forget that direct contact with books remains the best way to create new vocations.

Quels défis voyez-vous dans le métier, mais aussi quelles possibilités ?

En ce qui concerne le retour à la normale, il est évident que la pandémie a laissé des traces dans les esprits. Et certains marchands se sont habitués à vendre autrement, notamment sur Internet. Le retour vers les boutiques et les salons s'avère compliqué : la pandémie n'est pas encore complètement derrière nous et d'autres habitudes ont été prises, notamment par les clients. Aussi la fréquentation des salons n'est pas remontée au niveau des années précédant la pandémie, et il en est de même pour les boutiques. Néanmoins, je ne crois pas que ce modèle soit pour autant périmé. Certains clients ont perdu l'habitude de franchir le seuil d'une librairie ou de venir chiner sur un salon, mais de nouveaux clients se sont intéressés au livre ancien ou de collection durant la pandémie et auront un jour le désir de voir et de prendre en mains des livres pour faire leur choix. Je pense que la fréquentation des salons reviendra progressivement à la normale et que les libraires ne doivent pas se décourager mais au contraire inciter les clients à se déplacer à nouveau, les convaincre que cela reste encore le meilleur moyen pour faire des découvertes passionnantes tout en profitant des conseils des professionnels que nous sommes.
Au fil du temps, nous avons tous constaté que les ventes sur Internet n'on cessé de croître tandis que l'affluence dans les librairies étaient en baisse. Pour ma part, je crois qu'il faut faire attention à rééquilibrer un peu nos modes de vente : délaisser les salons et les boutiques serait à terme une erreur. Les ventes par correspondance assurent à nos commerces une pérennité financière à court terme, mais ne sont pas le meilleur moyen pour sensibiliser et former de nouveaux clients. Les salons, comme celui qu'organise annuellement le SLAM permettent à de très nombreuses personnes de voir et de toucher des livres parmi lesquelles certaines seront les clients de demain. Nous avons aussi l'occasion lors de ces manifestations, de montrer nos compétences et notre capacité à guider nos clients dans la constitution de leur collection. Nous devons collectivement œuvrer pour intéresser de nouveaux clients et assurer la continuité de notre profession dans l'avenir. Les nouveaux outils mis à notre disposition ne doivent pas nous faire oublier que le contact direct avec les livres demeure le meilleur moyen de créer de nouvelles vocations.
C'est la raison pour laquelle le SLAM organise chaque année à Paris un salon remarquable qui attire près de 15000 visiteurs, clients et néophytes qui peuvent découvrir durant quatre jours la diversité de la librairie française et internationale, des expositions de bibliothèques prestigieuses, des artisans des métiers du livre, qui font la richesse du patrimoine que nous défendons. Cette année encore, le Salon du Livre Rare aura lieu fin septembre au Grand Palais Ephémère, au pied de la tour Eiffel et nous espérons vous y retrouver nombreux.

Jean-Marc, many thanks for this interview.
To contact Jean-Marc Dechaud, please follow this LINK.
Image courtesy of Jean-Marc Dechaud
Interview: Angelika Elstner