New York Book Fair goes virtual - In-person fair is moved to April 2022
Due to the recent cancellation of the in-person New York International Antiquarian Book Fair, the ABAA invites bibliophiles everywhere to join the hunt for rare books and all manner of fine works on paper at the Antiquarian Booksellers' Association of America's Virtual Book Fair: New York Edition.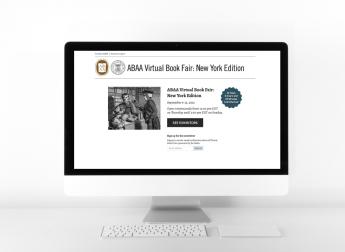 "The New York Antiquarian Book Fair has long been the premier showcase for some of the finest material brought to market. This year's virtual edition will be no exception," said ABAA President Brad Johnson. "As they say, there's no place like New York, but the prudent plan is to wait until next year to convene in person."
Due to Delta virus infections still causing major concern to visitors and exhibitors, the organisers of the New York Antiquarian Book Fair, one of the leading events worldwide, organised by the Antiquarian Booksellers' Association of America (ABAA) and fair promoter Sanford Smith and sanctioned by the International League of Antiquarian Booksellers, decided to cancel the September 2021 fair and move the fair to April next year.

Sanford Smith wrote to exhibitors and the trade on 13 August 2021: "We, like you, are disappointed that the fair cannot go on, but for everyone's safety – our exhibitors, staff and public – we have made the difficult decision to cancel. The Delta variant of COVID-19 has become a concern and the U.S. travel ban made it difficult, if not impossible, for over half of the exhibitors to join us. This decision was not made lightly."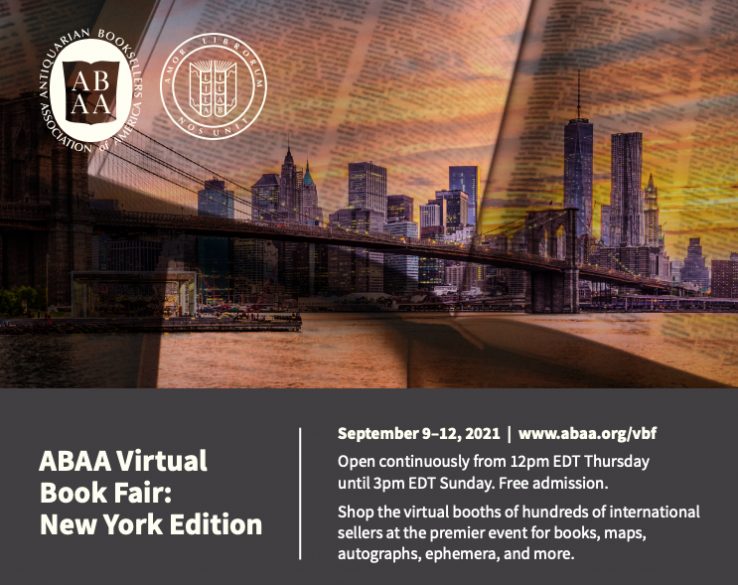 The ABAA Virtual Book Fair: New York Edition will open at 12 p.m./EST on September 9 and will remain open continuously, 24 hours a day, until the event's closing on September 12 at 3 p.m./EST. US and international visitors will be able to interact with book, map, autograph, and ephemera sellers in real-time directly from the virtual book fair platform.
Both American and international exhibitors will offer a rich selection of manuscripts, unique ephemera, artist books, zines, as well as early American and European literature, modern first editions, children's books, maps, autographs, photographs, and more.
Be sure to bookmark abaa.org/vbf so you're ready to visit the fair at the opening and sign up for email alerts to receive updates about special programming and more. For more information, visit the dedicated online fair website of the Antiquarian Booksellers' Association of America: abaa.org/vbf or call 212.944.8291.
As soon as the new date for the in-person New York fair is set, it will be published here.