New to ILAB! Speaking to Anke Timmermann of Type & Forme and why rare books matter to a younger generation
ILAB spoke to one of the newer members of the Antiquarian Booksellers Association, Anke Timmermann who jointly owns and runs the business Type & Forme with her partner Mark James: "...the printed book and manuscripts have lost none of their allure in the new millennium, and antiquarian books are arguably even better appreciated in recent years ... Social media, especially Instagram, have brought forth a new generation of bibliophiles..."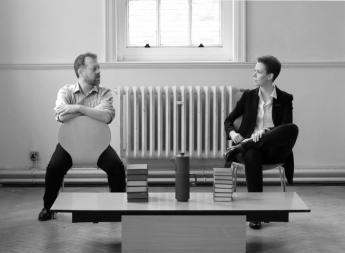 1. Type & Forme is one of the newest members of the Antiquarian Booksellers' Association and affiliates of the International League of Antiquarian Booksellers. As a young company, what does it mean to you to be part of the association?
We are profoundly international in the books and manuscripts we handle, our institutional and private clients, and outlook, so being part of the international antiquarian book trade is both important and essential to us. ILAB membership is internationally recognised as the 'gold standard' for combining the highest levels of business ethics with a very professional approach to book description, and after years of having positive experiences and exchanges with ILAB booksellers in previous lives, and working for businesses which are members of ILAB, we are proud to join the community in our new incarnation as Type & Forme.
On a personal note, I was the recipient of the Young Antiquarian Bookseller Scholarship which enabled me to take part in the ILAB Congress in Budapest in 2016 – an enriching experience which continues to benefit my life as a bookseller to this day (see our plans for Firsts London below).
2. How did you and your partner Mark James step into the antiquarian book trade?
Type & Forme may be a young company, but between us we combine some 50 years of experience with rare books: Mark began his life in the book trade in 1993, first at Christie's and Sotheby's, before joining Henry Sotheran Ltd as Head of the Travel Book Department and then Bernard Quaritch Ltd as Head of Travel Books. Over the years, Mark worked on a number of major auctions, including those of books from the libraries of William Foyle, Beriah Botfield, Michel Wittock, Quentin Keynes, and H.R.H. The Prince Henry, Duke of Gloucester, and, as a bookseller, compiled catalogues on the works of Charles Darwin, Margaret Mee, and the Napoleonic libraries of Brian Forbes and Karen Hunt.
I was a historian of science specialising in late medieval and early modern alchemical manuscripts and after completing my doctorate at Cambridge I embarked upon an international career at the Chemical Heritage Foundation, Philadelphia (home to the Othmer Library of Chemical History). This was followed by co-editing 'The Letters of Bess of Hardwick' at the University of Glasgow, working with medieval and early modern manuscripts at the National Library of Austria, and conducting research at the Max Planck Institute in Berlin. After finishing my first monograph – Verse and Transmutation: A Corpus of Middle English Alchemical Poetry (Brill, 2013) – I was awarded the Munby Fellowship in Bibliography at Cambridge University Library, where I began to compile 'Alchemy in Cambridge: An Annotated Catalogue of Alchemical Texts and Illustrations in Cambridge Repositories' (Nuncius, 2015). At that stage, I had seen how books went into libraries in different international contexts, and was intrigued by the step before books are institutionalised: searching out rare books and manuscripts, and then finding perfect new homes for them. I was also ready to move to a position that would allow me to use all my various interests and expand them further – what better place to do that than the book trade? I started at Bernard Quaritch Ltd immediately following my Munby Fellowship in 2014, where Mark and I handled (among many other things) collections of Napoleonica and works by T.E. Lawrence, produced a catalogue of works by women travellers that was featured in The Guardian and the Frankfurter Allgemeine Zeitung, and sold books on food and drink from the library of the conductor Christopher Hogwood.
3. What do you specialize in?
As you can tell from the answers above, our collective experiences are actually very eclectic! Consequently, we handle a broad range of subjects including travel; natural history (we are both Fellows of the Linnean Society); science and medicine; gastronomy; English and international literature; early and fine printing; and the performing arts. We not only deal in books and manuscripts in European and classical languages, but also in prints, instruments, and maps and globes, and are particularly interested in items of notable provenance. We also advise individuals and institutions on buying at auctions, and act for them in the auction context, as well as providing valuations for items loaned for exhibition and general insurance purposes.
Finally, true to our book history roots, our work extends beyond the narrow business of books: we both research and publish on book history (my four-article series on historical alchemical collections in British institutions is currently appearing in The Book Collector) and also curate exhibitions. This goes back to Mark's involvement with the Women and the Book: ABA Summer Exhibition 2008 and my curatorship of 'Unsealed: The Letters of Bess of Hardwick' (Hardwick Hall and The National Archives) in 2011 – our recent selling exhibitions of rare books and manuscripts include one on voyages of scientific exploration, as part of the Gravity Fields Science Festival in Grantham, a festival which enjoys the patronage of the Royal Society and attracted 80,000 visitors. We also work voluntarily in the preservation and advancement of cultural heritage: I recently joined the Linnean Society's Collections Committee, and we both assist at the Trigge Library in Grantham, a sixteenth-century chained library situated a stone's throw from Sir Isaac Newton's old school.
4. You are also acting at the Library Liaison person for the ABA. What does this entail? Will there be any special programs for librarians at the upcoming London fair FIRSTS LONDON?
When I took over the role from Lawrence Worms in 2017 I did not quite know what to expect, but must say that exchanging ideas with institutions in this role has been wonderful. The liaison is between the ABA and CILIP rare books libraries in the UK, and Tim Pye, the National Trust Curator, is my counterpart as Library Liaison for CILIP. Among other things, we arrange reciprocal visits between the groups to facilitate communication – the favourites so far have been the trade's visits to the vaults of the Linnean Society and the Belton House library, and the librarians' visit to the book shops on Cecil Court in London.
For Firsts London we have arranged a friendly get-together for librarians on 7 June: the fair will be opened at noon by Stephen Fry, and there will be time to see the guest exhibitions by The Globe and the International Society of Bible Collectors as well as browsing the fair at large before coffee and cake will be served at the onsite café from 4-5pm. I am looking forward to meeting librarians from all corners of the world!
5. In March 2019 in New York, ILAB ran a symposium on provenance issues, which was particularly well received by rare books and special collections librarians. With your experience and meetings with many institutions, how do you think can the rare book trade communicate better with institutions? What do you feel are the most pressing issues?
To pick up from the previous question: there is, indeed, a more serious side to the role of Library Liaison: at the CILIP conference in Brighton in 2017 I presented on the book trade's challenges of dealing with book theft and vandalism, including the reporting mechanisms and ways in which libraries and book dealers can alert others to a suspected or confirmed theft quickly and efficiently, which has resulted in a number of fruitful conversations.
Book theft and vandalism, questions of restitution, and provenance documentation are issues that cross the boundaries between institutions and the book trade as well as national borders: it is possible for a book stolen in the morning to be offered for sale in a different country in the afternoon. International communication is the key: there are digital tools (the Stolen Books Database among them) that can raise an international awareness about suspected thefts, and thereby prevent further damage pretty much instantly, as long as they are used efficiently. There seems to be a persistent (and understandable) sense of embarrassment about thefts of books from institutions, which may prevent those who have been victims of theft to alert other parts of the book world. But we are all on the same side: we all want books to remain where they belong, and we are all doing our best to prevent thefts and vandalism. When they do occur, which is sadly the case even with the best prevention methods, fast action is needed. I hope that systematic reporting and an increased awareness of thefts will not just result in the reuniting of stolen goods with their rightful owners, but that the united front presented against book theft by the book world – both trade and institutions – will be an effective deterrent to potential thieves.
6. You are exhibiting at FIRSTS - the London Rare Book Fair. Where can we find you and what are your highlights at this international event?
I am excited to report that for Firsts we have joined forces with the Swedish specialist in travel books Charlotte du Rietz! Our stands, N08-N09, will feature a joint exhibition of travel books, manuscripts, and photographs relating to Africa, the Middle East, China, India, Europe, and the Americas, in accounts dating from the 15th to 20th centuries by explorers, pilgrims, women travellers, and plant hunters. Type & Forme will also exhibit English and international literature, early printed books, science and medicine, human sciences, and fine printing – if I may say so myself, these include some remarkable books with notable provenances.
7. Last but not least, the millennials love books - do you agree?
In my experience in teaching the history of the book, and from recent invitations to speak on the subject in schools, I can confirm that the printed book and manuscripts have lost none of their allure in the new millennium, and antiquarian books are arguably even better appreciated in recent years than they were when I first started exploring rare books. Social media, especially Instagram, have brought forth a new generation of bibliophiles who want to see the real thing after seeing an intricate detail of, say, an illuminated manuscript in an Instagram post.
Given this general enthusiasm I do wish that it was less difficult for antiquarian booksellers to maintain traditional shops on the high street. I remember hours and hours spent as a student at Antiquariat Hatry in Heidelberg, and Mark spent his teenage holidays working in a secondhand bookshop, where he started collecting first editions, taking payment in kind from the shop's stock. These experiences were, in retrospect, an important education, and it is regrettable that future generations may not have the same opportunities to learn from knowledgeable booksellers that we did.
Type & Forme ABA PBFA ILAB
Rare Books & Manuscripts by Mark James & Anke Timmermann
Office No 1
Grantham Museum, St Peter's Hill
Grantham
Lincolnshire
NG31 6PY
(open by appointment)
[email protected]
www.typeandforme.com

Interview by Angelika Elstner