Medieval strangeness, anachronistic costuming, medical oddities, steeping weeds, earth larking... Kim Schwenk of Lux Mentis, Scholarship Winner 2022 for the ILAB Congress
From Rare Book Librarian to Rare Bookseller: Kim Schwenk on her world of antiquarian books and not to forget: "wayfaring, conjuring, myths, death positivity or winter landscape themed heavy metal..." Read on!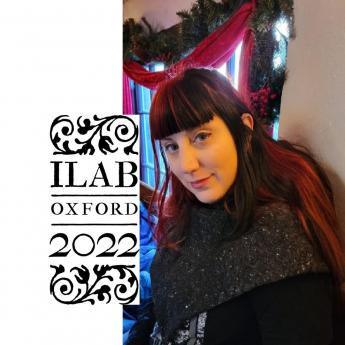 Kim, how did you start working in the rare book trade and what were your first encounters?

Story goes something like this: Early on in my rare book librarian career and a short time ago, I was at a rare books and manuscripts conference and one of the partners of Lux Mentis, Booksellers came up to me and said, "you are probably the heaviest tattooed librarian at RBMS." I said, yes, probably. Then at the next year's conference, I gifted him a signed copy of "I Was a Teenage Dominatrix" (a memoir) by the lovely Shawna Kenney and said, "I can read, write, and translate four non-English languages, I'm a recovering anarchist and I hate sitting in library policy meetings." Shortly after, I graced the floor of the ABAA California Antiquarian Book Fair selling my first book which was on occult psaligraphy, or esoteric paper cutting. I currently catalog and place materials ranging from a 17th century exorcism manual to a 19th century African American spiritualist medium biography to zines made by LGBTQ witches and eccentric bits in-between. I am truly a 'physical materials' person and thrive in an intellectual trade that celebrates the alchemical marriage of the strange and the sublime.

What do you specialize in and please describe your business a little to us?

Broadly, I am the subject specialist for Lux Mentis, Booksellers, in the occult which narrows down to: Latin American, Méxican, and indigenous magical practices, Medieval and Renaissance geomancy, herbalism and cunning folk, root work, to finally, contemporary independently produced pagan and witchcraft publications. These subjects are often marginalized in the larger scope of collecting, or are not considered valid as primary or secondary sources. My focus is working with the collection development strategies of academic libraries and private clients to identify collecting disparities, particularly material written and produced by underrepresented creators and scholars. I tend to catalog materials with heavy context and bibliographic description at the same level, so the significance is interdisciplinary. We emphasize this practice at the firm in general with all of our inventory which also includes book arts, design bindings, fine press, and other challenging work. This leads to enriched collecting experiences and intersectional curriculum support for special collections libraries.
What do you do if you are not pre-occupied with rare books?

Medieval strangeness, anachronistic costuming, medical oddities, steeping weeds, earth larking, wayfaring, conjuring, myths, death positivity, winter landscape themed heavy metal.

*******************************
Kim Schwenk is a rare book cataloger and an antiquarian bookseller with Lux Mentis, Booksellers with a specialization in Western, Latin American, and indigenous witchcraft history, history of early printed occult texts, including the library of John Dee and bibliographic studies of early magical curses using plants and objects. She operates Of Oak and Ash apothecary. Currently, she is writing a book on the materiality of books and magic, otherwise known as "(h)ex libris."