Japan's Book Trade & 2018 Tokyo Antiquarian Book Fair
Tokyo today is perceived as one of the world's most vibrant and tech-savvy cities in the world and yet, the tradition and appreciation for printing, calligraphy, script and Asian and Western literature are a fundamental part of modern Japanese society. The 2018 Tokyo Antiquarian Book Fair will open its doors on the 23rd March, organised by the Antiquarian Booksellers Association of Japan (ABAJ).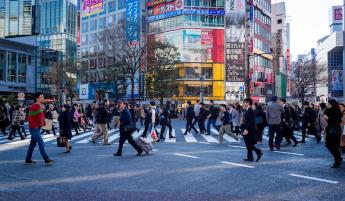 Japan's old culture and traditions; its temples and gardens, its world-class cuisine or its traditional sports and customs have always attracted visitors and scholars. Japan's history in printing, publishing and bookselling goes as far back as the 5th century and is closely linked to writing and the book from China.
Chinese, mostly Confucian and Buddhist texts were transmitted to Japan in the form of rolls or scrolls. These imported texts had to be copied to make them widely accessible and by the end of the 7th century, the so called shakyo or sutra copying, was an organised activity. By the year 727, a first sutra-scriptorium was set up by the Japanese government of Nara, where a staff of copyists would produce sutras to be used in government-temples.
Throughout the centuries, the production of sutras didn't disappear and was actively pursued until the 19th century, for devotional reasons or to produce luxury editions of classical works of literature with fine calligraphy.
Official documents were even written by hand until the era of computer-generated texts finally replaced this format.
Chinese woodblock printing was largely adopted in Japan and up to the 17th century, printing was dominated by Chinese and Buddhist texts.
The Korean tradition of movable type was forcefully introduced to Japan after the Japanese invasion in 1592. The first ever printed book in Japan by Japanese artists, the Chinese text "Classic of Filial Piety" was published in 1593.
Interestingly, by around 1650, Japanese publishers reversed the invention of printing with movable type and started operating exclusively with woodblock printing for economic reasons. The Japanese language would need vast amounts of type to represent all characters and signs which was too costly when using metallic type. Printing with wooden type flourished until the mid 19th century.
Early beginnings of the Japanese book trade
A very active and flourishing printing and book trade had developed fast. Reading and the study of the texts was an integral part of Japanese society.
From the 1660's, booksellers in Kyoto started producing joint catalogues to create order to an undifferentiated mass of publications. This tradition continued for a century and catalogues became increasingly sophisticated.
A first bookseller's guild was formed in Kyoto in the late 17th century and officially recognized by the authorities in 1716. Similar guilds later followed in Osaka (1723), Edo (1725) and Nagoya (1798). Trade guilds were only accepted by the government for the reason of limiting disputes over copyright.

Japan's Antiquarian Book Trade in modern times & The 2018 Tokyo International Antiquarian Book Fair
Rare booksellers from Tokyo, Kyoto, Sapporo, Osaka and Kumamoto are organized in the Antiquarian Booksellers' Association of Japan (ABAJ) which was founded in November 1964 and joined the International League of Antiquarian Booksellers in 1965. Since then, Japanese ILAB affiliates have actively contributed to the work of the League. Tsukasa Maeda was an ILAB Committee Member for three years. ABAJ currently counts 28 members.
ABAJ is organising the 2018 Tokyo International Antiquarian Book Fair which runs from 23 - 25 March. 41 Japanese and international booksellers are presenting their finest stock at Japan's only international antiquarian fair.
ILAB spoke to ABAJ's President, Mr. Kazuo Namikawa
How long has the Tokyo Antiquarian Book Fair been running and who organises it?
The fair has been running for about 40 years. Every time several members organize it as executive committee.
How often does the fair take place? Does it take place in other cities than Tokyo?
It takes place once a second or third years. Last time, in 2015, we celebrated the 50th anniversary of the founding ABAJ. And the fair before last time, in 2012, it took place in Kyoto.
How would you describe the fair? What makes the Tokyo fair such a special event?
Now we can see many historical materials in the digital world. I think it becomes more important to have a chance to see antiquarian books, manuscripts etc. with one's own eyes.We are happy that our fair will offer such an opportunity in Tokyo. And I hope that will be also an opportunity to realize ILAB motto Amor Librorum Nos Unit in Japan.
If in Tokyo, besides the book fair, what should a bibliophile visit and experience?
If you are booklover, Jimbocho is worth a visit. There are about 150 used-bookshops, the largest "book town" in the world. Many of our members' shops are located there. You can find books of all the genres by enjoying the shops one after another.
Mr, Namikawa, thank you very much for this information.




Article & interview: Angelika Elstner