Inclusion & Driving Business: A few questions to Sheryl Jaeger, recently elected President of the Antiquarian Booksellers' Association of America
Sheryl Jaeger, well-known dealer in ephemera and long standing member of the ABAA Board, was elected in February 2022 as new President of the organisation.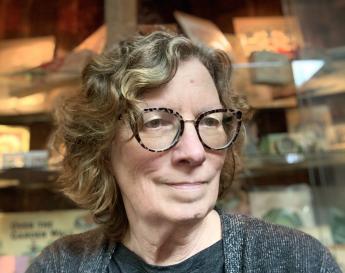 Sheryl, congratulations on your recent appointment as President of the ABAA.
Please give us a little background about yourself and your background in the trade?
Like many, prior to joining the trade, my previous careers were as an independent Management Consultant in health care and a corporate executive for a national healthcare organization, not to mention my beginnings as a registered nurse. With my partner Ralph Gallo, in 1989 Eclectibles – Fine and Unusual Ephemera was born and became a full-time endeavor in 1996. My personal and professional mission is The Promotion and Preservation of Ephemera leading me to serve in various trade associations and collector's groups. I am also a member of the Appraisers Association of America and the American Antiquarian Society. As the name implies Eclectibles offerings are varied with a focus on childhood ephemera, social history, women's history, collections and archives, and just about anything that presents a new view of a story, lends a new perspective, or serves as primary source material.
The pandemic gladly seems to be fading out; over the past two years you were very much involved in driving the virtual fairs for the ABAA.
What experiences have you gained? How do you see these being used going forward?
The pandemic and virtual fairs have taught me the importance of embracing flexibility and adapting to the situation. We will continue to adapt the virtual fairs to serve both sellers and consumers who cannot attend in-person events. As the pandemic is winding down, for the most part the virtual fairs have been offered as hybrid events with in-person fairs. Going forward I'd like to give consideration to more stand-alone virtual events perhaps such as the upcoming Transatlantic Book Fair in July we are co-sponsoring with the ABA.
Are there any fields in your work on the ABAA Council you feel particularly passionate about?
I must give credit to our great board of governors working in the areas of diversity and recruiting new members. That said, my personal passions are Inclusion, in the sense of identifying ways to allow more existing members to participate in selling and educational opportunities made available through the ABAA and by Driving Business to our membership by expanding our promotional efforts and identifying sponsorship opportunities.
We look forward to meeting with you at the ILAB Presidents' Meeting and Congress in Oxford in September. What are your expectations from the international ILAB community?
I am particularly excited about the Oxford events and hope to use it as an opportunity to exchange information and understand the challenges, innovations and successes of other member organizations.
Sheryl, thank you very much for this interview. We look forward to meeting you in Oxford in September 2022.