End of Year 2021 - Welcome to some new booksellers in the ILAB community Part 7 of 9: Georg Schneebeli of Georg Schneebeli :: Rare Books & Prints, Zurich – Switzerland
As the year draws to an end, we look back at 2021 and we spoke to a selection of booksellers who joined the ILAB community in the course of last year.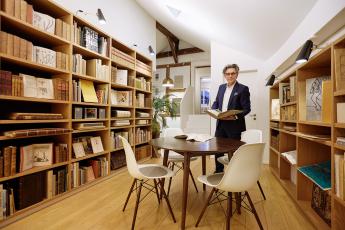 What triggered your interest in rare books and becoming a rare bookseller?
It should hardly surprise anyone when I say that books have always played a central role in my life, too. But what is the difference between a rare bookseller and a collector of rare books or a bibliophile? For me, it was the insight that the story, the making and the people behind a rare book became more important than the object itself. And once I reached this point, the idea of trading rare books instead of just buying them for myself was born.
What do you deal in?
Simply said, it's mainly printed books. But since I generally have a penchant for all things printed, you will also find printed art, ephemera and maps in my collection.
Do you specialise?
My collection is, of course, strongly influenced by my professional career, which was architecture and then graphic design. Therefore, the topics of art, architecture, natural sciences and printing will probably always play a major role in my collection.
Buying and selling rare books is more than just a job, it is often a passion and a lifestyle. What do you love most about your work?
Collecting books can be a rather lonely thing at times. But if you change sides, you suddenly come into contact with many like-minded and interesting people. And if there's one thing I really appreciate about this job, it's the interesting and enriching conversations I can have with customers.
What object would you love most to handle one day?
I have always been very impressed by William Morris as a person and his way of approaching things artistically, economically and socially. So, if I had to decide today what I would like to hold in my hands one day, it would without a doubt be a Kelmscott Chaucer. For me, not only a masterpiece of craftsmanship and design, but also a symbol of how great things can be created with simple materials.