End of Year 2021 - Welcome to some new booksellers in the ILAB community Part 2 of 9: Hélène Golay of L. N. Golay Books, Washington – United States
As the year draws to an end, we look back at 2021 and we spoke to a selection of booksellers who joined the ILAB community in the course of last year.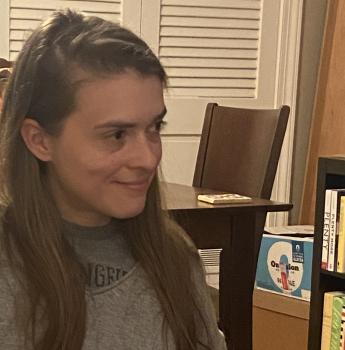 What triggered your interest in rare books and becoming a bookseller?
I knew from an early age that in order to be happy I would need to work with books. Almost immediately out of college I got a job as a copy cataloger at Cushing Memorial Library, the special collections and university archives library at Texas A&M University. In the two years I worked there several substantial collections spent time in my cubicle, one cart at a time. I catalogued a large portion of the library's Mexican Colonial Imprint Collection; the collection of the late Robert Dawson, who specialized in 18th century French literature; and the collection of my former boss Larry Mitchell, which centered around the Bloomsbury Group, though with ever widening parameters encompassing the works of Constance Garnett, World War I poetry, and, as an aside, pugilism.
When I entered my first rare book fair in 2011 I immediately knew I wanted to make the switch to the trade. It took me a year to figure out how, but finally in the summer of 2012 I moved to Minnesota and began working for Rulon-Miller Books in St. Paul, simultaneously starting my own business, L.N. Golay Books, which I founded on October 21, 2012. I moved a few years later to Virginia to work for Lorne Bair Rare Books, but kept working part-time on my own business, putting out occasional e-lists and exhibiting at some of the smaller regional fairs. During my time in Winchester, however, I met a fellow bookseller based in Washington, DC. We married on the eve of the pandemic lockdown and I moved to DC shortly thereafter. I now work full-time as L.N. Golay Books, becoming a full member of the ABAA and ILAB in October.
What do you deal in?
The majority of my customers are institutional and I work primarily with archives, manuscripts, and other unique materials with a special emphasis on women and education. As a dual French-American citizen I also have bought occasional collections of European literature, primarily in French, more so out of a personal interest than out of business sense. I currently have in inventory a small illustrated prayer book printed entirely by copper plate dedicated to Madame de Maintenon, Louis XIV's morganatic wife, bound in her uncommon coat of arms binding. Another highlight is a copy of "La Princesse de Bagdad," by Aleaxandre Dumas, fils, with a tipped-in autograph letter by Dumas to his friend Stéphane Mallarmé, wishing for the recovery of the latter's eight-year-old son Anatole. Anatole passed away later that year, the greatest tragedy of the poet's life, though it also inspired some of his most moving poetry, including "Pour un Tombeau d'Anatole."
What has been your most interesting discovery so far?
In the ten years I have been in the trade countless interesting items have crossed my desk for cataloging—every item in my inventory I bought because it captured my imagination in one way or another. The greatest pleasure, I think, in bookselling is procuring an item on a hunch, researching it, and discovering a much deeper story than the item itself betrays. An innocuous spiral-bound notebook kept by a white Tennessee woman on her road trip to Mexico City in the 1930s provides a portrait of the United States caught in a trifecta of human suffering—the Great Depression, the Dust Bowl, and Jim Crow. A colorful ABCs from the 1890s was actually an advertisement for a phony business school opened in Lima, Ohio, by a conman and his secretary, the pair making off with thousands of their students' dollars before disappearing to New York City.
Most recently I spent a day reading an archive pertaining to a 1912 trial in Batavia, New York. The collection includes court transcripts, eyewitness testimonials, and correspondence after the conviction. During a mid-summer picnic organized by workers at the Johnston Harvester Company, two young men got into an altercation over a softball which ended in one man, recent Italian immigrant Vincenzo Gatto, stabbing Irish-American Arthur Kearney in the abdomen. Kearney managed to walk half a mile to the nearest farmhouse to call a doctor, pressing a dirty handkerchief to his wound. The eyewitness reports are scattered and often conflicting—most of the men were still drunk when interviewed by the police. A report from Kearney himself is included, taken while dying in his hospital bed a few days before he succumbed peritonitis, perhaps caused by the aforementioned kerchief.
Gatto was eventually convicted of manslaughter in the first degree and his family suffered enormously in the aftermath, but what still haunts me is the lone photograph in the collection, taken of the picnickers just a few minutes before the stabbing. The men are not identified but based on the eyewitness reports I was able to identify them. Gatto is unsmiling, having spent the morning fighting off xenophobic taunts from Kearney. Kearney, at opposite ends of the group, is raising his glass of beer to the photographer.