Dutch Booksellers publish Joint Catalogue!
The Dutch Antiquarian Publishers' Association, NVvA has just published their joint catalogue and welcomes booksellers and collectors this weekend to its annual fair in Amsterdam!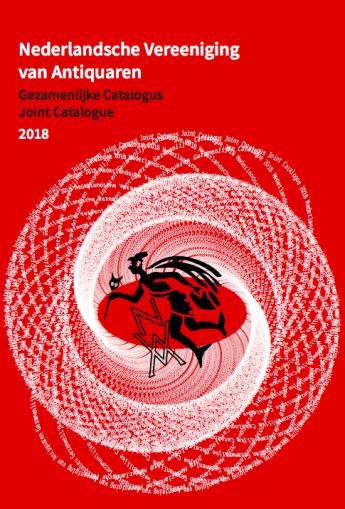 A Message from Gert van Bestebreurtje, President of the Dutch Antiquarian Booksellers' Association:
People often ask antiquarian booksellers what led them into the field?
Many say it began as a hobby or that they developed a serious interest in the book trades during their studies. That's how it went with me. As a student I worked for a scholarly bookseller with an antiquarian department and I quickly realized that I wanted to become an antiquarian bookseller. And now, many years later, I'm chairman of the Nederlandsche Vereeniging van Antiquaren (NVvA: Dutch Association of Antiquarian Booksellers).
Some people enter the trade in other ways. About a year ago, while preparing a few words to welcome a new member, I realized that she represented the third generation of antiquarian booksellers in her family. When I then looked through the list of members I discovered that quite a few, past and present, represented the second, third or even fourth generation in their families, and that in some cases two or more children in one family had entered the trade. Their families had sparked their interest in the field already at home.
But what about collectors? People whose families read a great deal at home often become voracious readers themselves, but does that apply to book collecting too?
Catalogues of family libraries show how extensive private collections can be. Often these treasured libraries are nevertheless sold at some point and the books come into the hands of other bibliophiles.
In any case, the members of the NVvA enthusiastically offer beginning and seasoned bibliophiles their remarkable books and prints at our annual book fair in Amsterdam. In this catalogue you can find a choice selection from their stock.
You can find more information about our members and what they have to offer on our website:
www. nvva.nl. The NVvA is affiliated with the International League of Antiquarian Booksellers (ILAB-LILA). You can find more about it at www.ilab.org.
I thank the editors who have this year once again taken on the task of preparing this joint catalogue. In the name of our association I wish you much reading pleasure!
We look forward to your visit to the book fair at the Marriott Hotel in Amsterdam on 6 and 7 October.
PLEASE DOWNLOAD THE FULL CATALOGUE HERE
Voorwoord
Antiquaren krijgen regelmatig de vraag hoe zij in het vak terecht zijn gekomen.
Het antwoord is vaak dat het als hobby begon ofwel dat tijdens de studietijd een serieuze interesse in het boekenvak ontstond. Zo is het ook mij vergaan. Toen ik studeerde werkte ik bij een wetenschappelijke boekhandel met antiquariaat en al zeer snel werd het mij duidelijk dat ik als antiquaar verder wilde.
En inmiddels, vele jaren later, ben ik voorzitter van de Nederlandsche Vereeniging van Antiquaren (NVvA). Het kan ook anders. Ongeveer een jaar geleden, tijdens het voorbereiden van een welkomstwoord voor een nieuw lid, realiseerde ik mij dat diegene behoort tot de derde generatie antiquaren uit één familie.
Toen ik vervolgens de ledenlijsten ging bekijken bleek dat er een aanzienlijk aantal antiquaren lid zijn of lid zijn geweest die tot de tweede, derde of zelfs vierde generatie behoren en dat soms meerdere kinderen uit één gezin voor het vak kozen. Zij kregen de belangstelling voor het vak vanuit huis mee. Maar hoe zit dat met verzamelaars? Als er thuis veel gelezen wordt dan werkt dat aanstekelijk, maar geldt dat ook voor verzamelen? De catalogi van familiebibliotheken laten zien hoe omvangrijk die privé collecties konden zijn. Veelal zijn die gekoesterde bibliotheken op een gegeven moment toch verkocht en zijn de boeken in het bezit gekomen van andere liefhebbers.
Hoe het ook zij, de leden van de NVvA bieden met veel enthousiasme, beginnende en al vele jaren verzamelende boekenliefhebbers hun bijzondere boeken en prenten aan op onze jaarlijkse beurs in Amsterdam. In deze catalogus vindt u een uitgelezen selectie uit hun voorraad. Meer informatie over onze leden en hun aanbod vindt u op onze website www.nvva.nl.
De NVvA is aangesloten bij de International League of Antiquarian Booksellers (ILAB-LILA). Meer hierover vindt u op www.ilab.org .
Ik dank de redactie die ook dit jaar weer zorggedragen heeft voor deze gezamenlijke catalogus.
Uit naam van onze vereniging wens ik u veel leesplezier en we kijken uit naar uw bezoek aan de beurs in het Marriott Hotel in Amsterdam op 6 en 7 oktober!