News & Updates
A report from the CABS-Minnesota Bookseminar 2022 by Sian Witherden
For the first time in 2022, the CABS faculty granted a scholarship to one mentee enrolled in the ILAB Mentoring Programme. Sian Witherden(UK) and ILAB thank the CABS board for this wonderful opportunity. Read Sian's enthusiastic report here.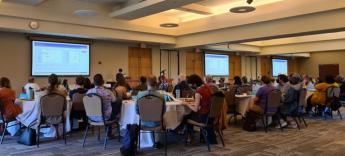 In July 2022, I was fortunate to have the opportunity to attend the Colorado Antiquarian Book Seminar (CABS), now based at St Olaf's College in Minnesota. CABS has been running for over forty years, and it offers hands-on training for those new to the antiquarian book trade. My involvement was made possible thanks to a scholarship for a non-US resident who is active in, or has recently completed, a term of mentoring in the ILAB Mentoring Programme.
My academic background lies in medieval manuscript and print culture, and so I was delighted to be matched with Leo Cadogan as a mentor in 2021. Leo specialises in unusual and iconic items from the cultural and intellectual life of the European Renaissance and Early Modern periods. He has been extremely generous with both his time and expertise, introducing me to cataloguing and book fairs. Working with Leo as part of the ILAB Mentoring Programme has only fuelled my enthusiasm for the rare books trade, and so I was thrilled to hear I would be travelling to Minnesota to learn more.
At CABS, I particularly enjoyed the keynote address by Angelika Elstner. It was fascinating to hear her speak about the origins and development of ILAB as well as the benefits of collaborating internationally. Another highlight was the specialist dealer lecture delivered by Simon Beattie and Justin Croft. Entitled 'Dare to Share', this lecture opened my eyes to the exciting range of possibilities for collaboration in the rare books trade. Katherine Reagan and Mark Dimunation's contributions on the interplay between libraries and the rare books trade also resonated strongly with me. I was very impressed with how smoothly CABS have settled into their new home of St Olaf's College, and it was obvious how much hard work had been put into the week.
Perhaps the single most rewarding part of CABS was the opportunity to meet like-minded people, with everyone bringing their own unique perspectives and experiences to the table. I was really struck by the number of inspiring voices—both new and established—in the rare books trade. Our conversations about books continued well into the evenings throughout the week, and I came away from CABS with much food for thought. I am extremely grateful for the scholarship that made this experience possible, and I would highly recommend both the ILAB mentoring scheme and CABS.
Sian Witherden,
22 August 2022
For more information on the CABS Seminar, also view this article HERE
Interested in applying for the ILAB Mentoring Programme? Find more information HERE