A joint catalogue by our colleagues from Down Under!
"What better way to reconnect than to share some of our treasures with you", writes the President of ANZAAB, Douglas Stewart. Our colleagues of the Australian and New Zealand Association of Antiquarian Booksellers, have just published a joint catalogue. Happy browsing!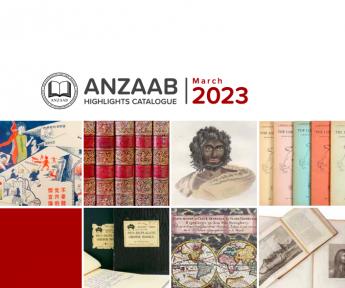 Dear friends,
It's been a while since we have been in touch, so what better way to reconnect than to share some of our treasures with you. In our latest ANZAAB Joint Catalogue, twenty-four of our members have joined forces to present a fine offering of literature, history, travel, and artworks, ranging from antiquity to the modern age. From classic Australiana to English fine press, Japanese history and livres d'artistes, it is worth browsing each page as there are some real gems contained within.
We warmly welcome back Buderim Rare Books as a rejoined new member of ANZAAB after a period running a bookshop in Scotland and re-establishing again in Australia. Alan and Fiona McIlreavy are experienced booksellers with a high quality stock, and it is well worth browsing their website or visiting their bookshop in Buderim, Queensland, as I did recently.
Unsurprisingly, the Joint Catalogue is well represented with pictorial material, including antique maps, illuminated manuscripts, historical paintings and prints, deluxe edition art books, fine bindings and rare illustrated dust jackets. You'll find a few surprises there as well, such as an imposing set of bushranging bullock's horns, a box of chocolates favoured by the Governor-General, and if you read through to the end, perhaps even dainty underwear from Ballarat!
If you see something of interest please contact the ANZAAB member directly, hopefully it is still available. We also look forward to seeing you at the upcoming Melbourne and Sydney Rare Book Fairs, the dates are on the last page.
With best wishes,
Douglas Stewart
President
Australian and New Zealand Association of Antiquarian Booksellers
Download