Contact

János Pogány

Address

Táncsics u. 11.
Kistokaj, 3553
Hungary

Opening Hours

By appointment only

Phone

Mobile

Email

Website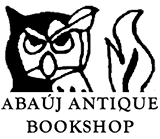 The Abaúj Antique Bookshop which was founded in 1996 by Sándor Balogh and János Pogány is one of the most significant representatives of the Hungarian second-hand book trade.
The second-hand bookshop I lead organizes numerous book auctions year by year in Budapest. I make a catalogue out of the most unique themes every summer. My favourites are autographed books and manuscripts. Autographed books and manuscripts of internationally-recognised writers, poets, historical figures and celebrities can be found in my collection.
You cannot even imagine how many rare books and manuscripts can be found in Central Europe!
I have created the abaujantique.com website in order to make the world aware of us and get to know us. I would like to learn about your interests and to enlarge your own collection with rarities.
Kind Regards from a booklover,
János Pogány
Specialities
Art
Autographs
Illustrated books
Literature
Music
Avant Garde
First Editions