Returning to Oxford as a booksellser: Anne Middleton, scholarship winner for the 2022 ILAB Congress in Oxford
Anne Middleton, bookseller at Peter Harrington in London on her first encounters with the rare book world at the Bodleian in Oxford, working for an Edinburgh and London dealer and even teaching English in Paris.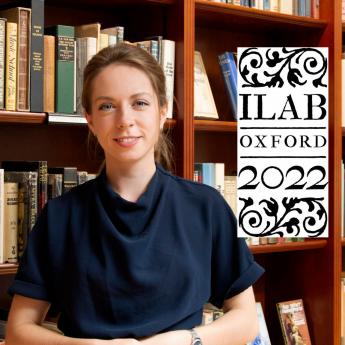 How did you start working in the rare book trade and what were your first encounters?
I first became aware of the rare book trade while an undergraduate reading English at Oxford. I took a special option in "texts in motion", which gave me privileged access to the Bodleian library - a trove of historically interesting objects. I wanted to know how the Bodleian acquired out-of-print works, where they acquired them from, and how significant commercial value had come to be attached to the books. At the time, I was working with early variant editions of Sir Philip Sidney's collected works, which still hold a sentimental weight for me: they were compiled by his sister, who was the driving force behind his immortalization in the English literary canon, publishing his works in weighty folios that predetermined his significance as a poet.
What do you specialize in and please describe your business a little to us?
I went on to study an MSc in Book History and Material Cultures at Edinburgh, where I had the opportunity to work at McNaughtan's and see the Edinburgh Rare Book Fair from behind-the-scenes. After finishing my MSc I dotted about as an English teacher in Paris for a while, before settling in London and joining Peter Harrington in 2019.
I am primarily interested in English literature, methods of textual circulation, and the materiality of readership: how books pass from hand to hand, and the networks and connections they generate. I'm grateful to ILAB for hosting me on this scholarship: it's refreshing to return to Oxford as a bookseller, and the congress looks to be the ideal antidote to a few years of digital bookselling.