Archives Fine Books Australia announces winner of the Archives Fine Book Collecting Prize
ILAB bookseller Archives Fine Books is delighted to announce Ms Emily Porter, 35, of Bray Park, Queensland, Australia, has won the inaugural Archives Fine Book Collecting Prize with her entry "A Horse Lover's Library".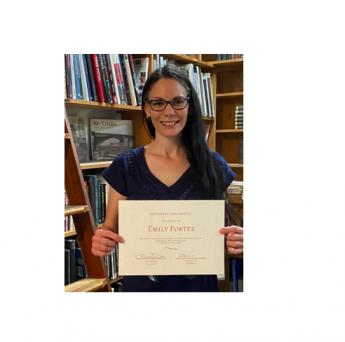 "I ultimately want to do my best to select the finest of the books that interest me. It is also especially important to me to preserve the history of the horse in reality, literature, and art, and what better way to do that then to curate a glorious time capsule that can be opened at any time, continuously updated and refined, and equally provides physical comfort and intellectual inspiration. That is the purpose of my book collection for me. " (Emily Porter).
Ms Porter has been collecting horse books since the age of eight although she admits it may have started even before that, "I have another memory from a younger age... of hunting down the Phar Lap movie companion book in a second hand bookstore and proudly bearing it to my mother. The bookseller kindly gave a generous discount... he knew a booklover when he saw
one."
While all applicants demonstrated enormous enthusiasm and passion for their respective collections, judges were particularly impressed with Ms Porter's well-written essay, her comprehensive bibliography and her "wish list" which demonstrated collection direction. As one judge commented, "I have less than no interest in horse books, but this entry had me thinking I would quite like to see some!"
Another judge appreciated her pleasure in various aspects of the book including paper, typeface and illustrations; her practice of supporting local bookshops and charities and her intention to develop a well-rounded collection.
Ms Porter takes out the inaugural prize ahead of eight other applicants aged 15 to 35.
The judges particularly noted two other submissions for their clarity of collection focus and general excellence.
Mr Timothy Roberts came a close second with his collection, Leather, love and literature: building a collection of LGBT text resources, and Mr Marcus Ray came third with his entry "Africa Discovered: Collecting the unexplored".
Dawn Albinger of Archives Fine Books and instigator of the Prize is delighted with the result. "To have received nine submissions just from the Greater Brisbane area was really exciting and speaks of the enduring appeal of books as material objects and cultural capital." Her partner Hamish Alcorn, one of the four judges added, "Not all of the entries demonstrated the focus of the three front runners but I was struck by the passion and purposiveness of all of them. Especially given that this is brand new territory for everyone concerned, the standard was high. For me, a professional book geek, this is really exciting for the culture of our city."
Ms Porter wins a combination of ANZAAB Book vouchers, Archives Fine Book Vouchers and cash. The prize is also supported by the Bibliographic Society of Australia and New Zealand and The Book Collecting Society of Australia who are each offering a year's membership.
While there were no advertised prizes for second and third place, Mr Roberts and Mr Ray will also receive gift vouchers from Archives Fine Books in recognition of the quality of their entries.
Applications for the 2021 Prize will open on January 1, 2021.
All enquiries should be directed to Dawn Albinger: [email protected]
To contact Archives Fine Books, please visit the website here.