Adam Weinberger Booksellers and an INSTAGRAM ONLY CATALOGUE
Adam Weinberger (ABAA) of Adam Weinberger Rare Books, New York recently announced his first INSTAGRAM-ONLY Catalogue. Promoting via Instagram, this seems to work. But selling via Instagram?In the article below, Adam explains why he sees Instagram as an important platform for our business and shares some tips on how to put up a catalogue. You can follow Adam here: @RareBookBuyer or @AdamWeinbergerCatYou can follow ILAB too: @ILAB_Rare_Books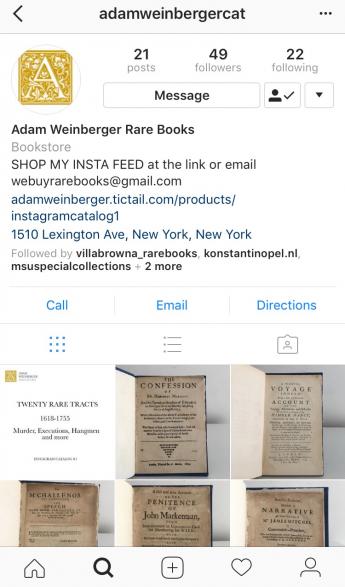 Adam Weinberger (ABAA) of Adam Weinberger Rare Books, New York recently announced his first INSTAGRAM-ONLY Catalogue. Promoting via Instagram, this seems to work. But selling via Instagram?
In the article below, Adam explains why he sees Instagram as an important platform for our business and shares some tips on how to put up a catalogue.
You can follow Adam here: @RareBookBuyer or @AdamWeinbergerCat
You can follow ILAB too: @ILAB_Rare_Books

REASONS FOR EXPLORING INSTAGRAM AS A SALES PLATFORM FOR THE RARE BOOK TRADE
By Adam Weinberger

1. Large demographic and potentially nontraditional book buyers.
2. Ability to target very specific and esoteric interests with hashtags
3. Facebook (IG's parent) is starting to make it a sales platform with new features (check out "katespadeny" as an example of what's to come- so get in on the ground floor experimenting)
4. Brand Showcasing
5. Lots of special collections librarians engaged. You can get to know their tastes and collecting interests.
6. Ability to Direct Message people with shared interests without their email - quite useful as an introduction.
TIPS TO PUT UP A CATALOG ON INSTAGRAM
Admittedly, this is an early somewhat cumbersome stage. If anyone wants to try, these are my thoughts/tips.
1. Establish two accounts
. For myself, I use "
RareBookBuyer
" as one name to build a following and make general posts. For selling purposes or to make a catalog, I recommend a separate account. In my case, I set up "AdamWeinbergerCat" for this and future catalogs. The purpose is that when I post 20 pictures of books I do not want to flood followers of my main profile. Rather, I post multiple books listings on a dedicated and separate selling account and then just made a single catalog announcement on my main account.
2. Observe #hashtag etiquette:
For the catalog announcement on my main profile, I included popular hashtags under the listing such as #specialcollections and #rarebooks. Again, since some people follow these hashtags, I think it is not a good idea to flood them with multiple images and overwhelm that specific hashtag feed. In the individual book listings on the dedicated selling account I used only hastags that are specific to that particular book. For instance if it was was signed book of Julia Child, you might include #frenchcooking #frenchchefs #cookbooks etc, but refrain from using #rarebooks and #specialcollections (except for the announcement on the main profile).
3. You can add a comment when something is "SOLD" to avoid disappointments.
A good example of this is the antique store "jinxedstore" which uses this technique to great effect.
4. Keep sales terms/ return policy/ subject to prior sale clearly at the bottom of each book entry.

5. It is possible to
create mini e-commerce site
that lets one "shop the feed"; i.e. purchase on the mobile phone any item listed in the Instagram catalog (or even individual offerings). To do this at present (again it is evolving), I added a special mobile site with built in shopping and payment cart. Your current website may have this ability for mobile commerce or I used a third-party site called
Tictail
which allows one with little effort to set up an instant commerce site and manage it easily.
I created a special category on my Tictail shop for my Instagram catalog that mirrored my listings on Instagram. I then took that link and placed it in the profile of my selling account on IG, and told customers they can "shop the feed" in my profile.
6. Convert your account to a business account.
If you have not done so already, this is possible in the settings of each account. Once it is registered as a business account, Instagram allows you to create a
Call button, an email button, and a business direction button.
Anybody can instantly click and contact you then.
7. Promotion:
If you have a business account, and don't have a lot of followers, you may want to spend money promoting your catalog. Instagram has a promote button for this that lets you instantly set and control budgets and specific audiences with impressive demographic and interest specificity.
8. Organizational Promotion:
Example: The ABAA (
abaa49
on IG) occasionally promotes single items for sale by ABAA members. Perhaps with encouragement they could promote IG catalogs of members as well.
IS THIS AT ALL EFFECTIVE?
1. In 1 year I have earned approx. 1500 followers. I have met 4 new customers that have bought items- 3 of which I never would have sold anything to or who never would have attended a book fair or looked to buy antiquarian material. Of these, two are very likely serious repeat buyers. (Incidentally my favorite instructive example, was a $75 19th century book on sewers that I sold to a sanitation engineer who found it through the #sewagetreatment hashtag)
2. I have also engaged with about 6 Institutional buyers I had not sold to before. With that said, I took a more active approach to study their IG feeds, and after understanding their scope and current collecting interest, DM (Direct messaged) them to ask if I could get an email to send a quote. I have almost always had good
responses.

Adam Weinberger is a member of the Antiquarian Booksellers Association of America (ABAA) and the International League of Antiquarian Booksellers (ILAB).
To contact Adam, please follow this link.