Verband Deutscher Antiquare e.V. (VDA)
Address

Bureau du VDA
Norbert Munsch, Secrétaire
Seeblick 1
D-56459 Elbingen
Germany

Email

Website

President

Sibylle Wieduwilt

President Phone

President Email

President Address

Antiquariat Tresor am Römer
Braubachstraße 32
D- 60311 Frankfurt am Main
Germany
The Verband Deutscher Antiquare (VDA) is the German association of antiquarian booksellers, auctioneers, autograph, art and print dealers. It was founded in 1949, and currently has 205 members who adhere to the ILAB Code of Customs and Usages, which provides customers with guarantees such as:
- All items for sale are fully and accurately described, with all known defects disclosed.
- All items are authentic and clearly priced.
- All valuations and appraisals are fair and in keeping with the antiquarian book market.
The most important event of the VDA is the Stuttgart Antiquarian Book Fair which takes place in January.
The VDA regularly publishes an updated directory of members listing their addresses, web information, opening hours, specialities, catalogues etc.
A copy (free of charge) can be sent by request.
The homepage of the VDA provides updated information about the membership, as well as information about the VDA's activities and the book trade in general.
The standing committee of the Verband Deutscher Antiquare e.V. is elected by the members for a duration of two years.
Committee
Sibylle Wieduwilt (Antiquariat Tresor am Römer, Frankfurt am Main), President
Dr. Markus Brandis (Bassenge Buch-Auktionen GbR, Berlin), Vice-President
Dieter Zipprich (Antiquariat Zipprich, Bamberg), Treasurer
Elvira Tasbach (Antiquariat Elvira Tasbach), Committee Member
Meinhard Knigge (Antiquariat Knigge, Hamburg), Committee Member

Impressions from the Stuttgart Rare Book Fair 2020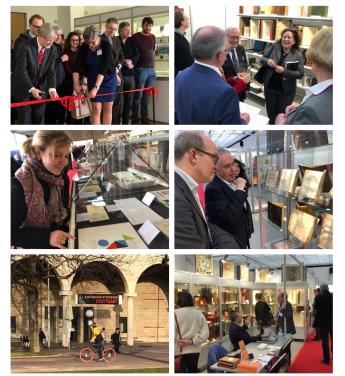 Verband Deutscher Antiquare e.V. in the News