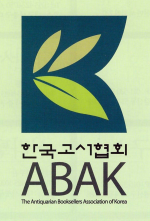 The Antiquarian Booksellers' Association of Korea (ABAK)
Address

606Ho, Suwoon Bldg.
Samil-Daero
457Jongno-Gu
Seoul
Republic of Korea
Korea, Republic of

Email

President

Mr. Sun Kyoon, Kim

Association Phone

Association Contact Fax

+82(2)738-1269

President Email

President Address

Mr. Sun Kyoon, Kim
Apartment Mall #101, 1F, 69,
Bongsanmunhwa-gil, Jung-gu
Daegu
Republic of Korea
26 Korean antiquarian booksellers established the Antiquarian Booksellers' Association of Korea (ABAK) in 1989. During the 30th ILAB Congress in Tokyo they were formally admitted as the 18th ILAB member.

Korea, as with China, is one of Asias principal members, and it is an important neighbouring country to Japan, said ABAJ President Takehiko Sakai during the Vienna Meeting 2009. With this in mind, the election of The Antiquarian Booksellers' Association of Korea into the ILAB was another important step in opening up the rare book market into the global world. This development has continued with the establishment of the Hong Kong Book Fair in 2007 and the admission of the Antiquarian Booksellers Association of the Peoples Rebublic of China in 2009 as the 22nd member of the League.

Like all ILAB affiliates the ABAK members adhere to the code of ethics and good practices. The Korean Association organizes a yearly antiquarian book fair in Seoul, which, as the Korean market in general, is mainly devoted to early Korean books and manuscripts.
Book Fair

The Seoul Antiquarian Book Fair is held every year, and concentrates on Korean books and manuscripts.

Annual meeting

occasionally

President

Mr. Sun Kyoon, Kim
The Antiquarian Booksellers' Association of Korea - Most recent News