"Try to find global solutions led by an association that represents all its members": In conversation with Mario Giupponi, recently elected ILAB President
In September 2022, Mario Giupponi was elected by the 22 national associations' presidents succeeding Sally Burdon in the role of ILAB President. Antiquarian bookseller for over 30 years and passionate ambassador of the trade; we spoke to Mario Giupponi on his vision and ideas and why the ILAB engagement matters.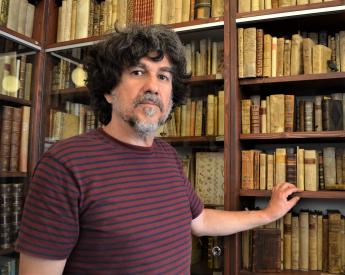 Mario, heartfelt congratulations once again on your election as ILAB President! For those booksellers amongst us who do not know you, please can you describe yourself and your business a bit?
Thank you and greetings to all. For those who do not know me: I run the bookstore called Studio Bibliografico Benacense in Riva del Garda (northern Italy).
I started my business almost 35 years ago (sic!) and my life as an antiquarian bookseller started from one book (1987) to 100,000 books (2022). In my bookstore we are mainly interested in books from the 16th to the 18th century, but our love for books often brings us to acquire large collections of more recent items.
During all these years I have traveled extensively, especially to Germany, France, and South America, and I have had the opportunity to get in touch with many booksellers and I'm so lucky to have many good friends in these countries.

For many years, before joining the ILAB Committee in 2019, you were a member of the ALAI board and later its president. Please tell us a little about your work in Italy, which eventually led you to work closer with ILAB.
My experience in the ALAI board was very stimulating and above all focused to help the younger booksellers to establish their activities and to work with them explaining the main issues.
Later, as ALAI President, this allowed me to convince some of them to become members of our association and to give new inputs to the activities of the group of Italian booksellers, especially with regards to book fairs. I was supported by the other ALAI committee members and we made any effort, during the years, to let a new generation grow!

What excites you about ILAB and why have you committed yourself to that time-consuming role?
The new engagement as ILAB President will certainly be very challenging, but it is extremely stimulating to have the opportunity to work at this level, observing the different attitudes, issues and problems of booksellers around the world.
This shows that, in the current situation, what we need is to try to find global solutions led by an association that represents all its members and, with the strength given by their numbers, can play an international role.
The recent congress in Oxford reinforced my idea that together we can aim for significant and international achievements. A terrific experience involving more than 120 affiliates masterfully organized by the ABA.
This will be especially possible by working with the new board made up of enthusiastic people ready to be involved in many interesting projects old and new. We must in fact remember that the previous board worked very hard and laid the groundwork for future events that were often obstructed only by the pandemic. We will try to continue the job started by a very efficent group of people: Sally Burdon, Anne Lamort, Stuart Bennett, Angus O'Neill, Pavel Chepyzhov, Eberhard Koestler, Rob Shepherd and Angelika Elstner.
One of the best examples of this are the increasing legal challenges that we are facing and that can only find an answer in the collective work of ILAB with its members and the national associations' presidents. ILAB is currently part of a consultation process with UNESCO, together with the largest arts trade associations.
Through this work, ILAB constantly monitors international legal developments in order to protect the interest of our trade on an international scale.

How do you see ILAB's role going forward?
Taking care of the vision of the founding members in 1947. Using their words: "uphold and improve professional standards in the trade, promote honourable conduct in business…". This must always remain one of the landmarks of ILAB. Because only by following this way we will be able to distinguish ourselves in this jungle that is now becoming the antiquarian book market.
Giving space to initiatives like the Oxford Symposium in which we had the impression that something great happened: the (I would suggest for some of us unprecedented) successful and fruitful collaboration between antiquarian booksellers and libraries.
Putting a lot of energy into the mentoring projects and educational projects that have already given so many opportunities for young booksellers to get help and attend interesting schools.
Supporting other interesting initiatives such as the ILAB Breslauer Prize for Bibliography and similar that will allow ILAB to operate in a broader cultural fields and get in contact with high profile persons.

Amor Librorum Nos Unit - The Love of Books Unites Us. Would you share some of your favourite bibliophiles places with us?

Any place in the world where you can meet people with our same passion for books… I've got so many "souvenirs", from the most remote bookshops in Kolkata, to the hidden markets in Teheran, in Istanbul, in all the markets in the biggest cities of Europe and America and… But if I must answer to your question where I probably caught the greatest attention to the importance of books and reading: I must tell that it was in some bookshops and libraries in Buenos Aires and especially in a park of this city devoted exclusively to… reading a book!

But now let me pass on my good wishes to the new committee: to Angus O'Neill, Sally Burdon (tireless), Mats Petersson, Philipp Penka, Christopher Bailey, Nicolas Malais, Scott DeWolfe... and you! ...who will have the challenging task of working with us all in this tricky adventure.


Interview: Angelika Elstner, ILAB

To contact ILAB President Mario Giupponi or any member of the standing ILAB Committee, please follow this link and do not hesitate to reach out.