"Thinking of myself as a collector has completely changed the way I think about books."
Exceptional collections curated by women book collectors: the Honey & Wax Book Collecting Prize has been running since 2017 when ILAB booksellers Heather O'Donnell and Rebecca Romney founded a prize, specifically aimed at young female collectors aged 30 and younger.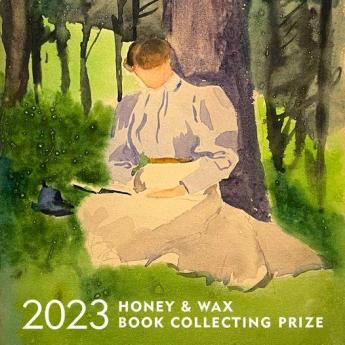 Applications are now open for the 2023 Honey & Wax Book Collecting Prize, a cash award of $1000 for a compelling collection built by a woman aged 30 or younger, anywhere in the US.
Heather O'Donnell and Rebecca Romney write:
"Here at Honey & Wax, we take a particular interest in the evolving role of women in the rare book trade, on both the buying and selling sides. The great American book collector Mary Hyde Eccles, the first woman elected to the Grolier Club, noted that a collector must have three things: resources, education, and freedom. Historically, she observed, 'only a few women have had all three, but times are changing!' We embrace that change."
2022 Winner of the Honey & Wax Prize:
We would like to use the occasion and present the winner of the 2022 Prize, Melanie Shi from Flower Mound, Texas.

Melanie Shi, 24, (she/her), is a graduate student at the Institut des Langues et Civilisations Orientales in Paris, for "East of France, West of Russia: Cold War Europe and the Chinese Book," a collection of translations of ancient and modern Chinese works marketed by European publishers during the Cold War. Examining the role that romantic and political ideas of "Chineseness" played in different national contexts after WWII, Shi argues that "the history of postwar Europe can be told through the Chinese book:"
"No matter where I am, I am unconsciously drawn to books with oriental motifs, just as I am drawn to Chinese populations. Chinese people are everywhere — and everywhere bound by linguistic and cultural ties to the mainland and the tumultuous politics of the last half-century. . . . During the Cold War, each European nation articulated a particular stance and taste for Chinese literature that could be used as an arbiter both of cultural tastes and of attitudes towards communism, represented by China, at any given moment, all the while the relationship between China and Russia fluctuated as well."

"Thinking of myself as a collector has completely changed the way I think about books."

To contact Heather O'Donnell and for all information about the prize, please follow this link.