News & Updates
The ILAB Congress 2022 in Oxford - Day 1
DAY 1 - 10 September 2022: Oxford is home to some of the world's most prestigious museums. The ILAB Congress's first full day's itinerary comprised tours of some of the most notable of these: the History of Science Museum, the Museum of Natural History, and the Ashmolean Museum - Britain's first public museum, and one of the oldest in the world.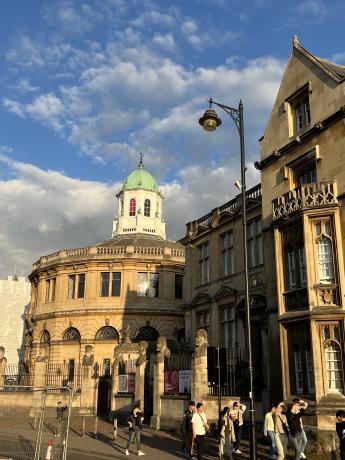 Text by Anna Middleton, Images Angelika Elstner
The History of Science Museum is home to an unrivalled collection of inventions, devices, instruments, and oddities, a selection of which are displayed in the old Ashmolean building: the world's oldest surviving purpose-built museum. Modern science was well represented, with thoughtful exhibitions on the life and discoveries of Henry Moseley; the many minds behind the discovery and application of penicillin; a wall-mounted blackboard written on by Einstein during an Oxford lecture; and the recent acquisition of an AstraZeneca vaccine sculpture by Luke Jerram, one of five such artworks auctioned for charity. A selection of favourite items was pointed out to us on our guided tour: an imposing and ornate silver microscope, made for George III, sat opposite magic stones and crystal charms, and the still-undivided worlds of science and religion were exemplified by a set of mathematical drawing instruments in a bright crucifix case.
The Ashmolean's prodigious collection was broken down into four tours. Attendees were given an introduction to the museum, covering the history of the collection, previously housed in what is now the History of Science Museum. A selection of items was curated for our visit, including an endearing Edward Lear alphabet manuscript, an enviable copy of the first modern atlas, and a set of original Erangy Press woodcuts. Dr. Paul Bevan presented his pick of Chinese works on paper, from Wucius Wong's calligraphic art to propaganda posters from the Cultural Revolution, and attendees were given a brilliant overview of the museum's collection of 19th century art: "we could spend hours on this painting", said our guide, "but we have so many others".
At the Museum of Natural History we were presented with a wealth of engaging materials, including early and vivid examples of geologist William Smith's works, two of the six volumes of William Jones's monumental and beautiful work of lepidopterology, and illustrations by Elizabeth Philpot of an ichthyosaur skull, executed using ink from a fossilized squid ink sac - a notable rarity. The day's glut of treasures was broken up by well-provisioned pauses. Lunch was at the Ashmolean's rooftop restaurant, Blackwell's kindly hosted welcome drinks in their shop, and the day was closed with a candle-lit dinner at Balliol College Hall.