News & Updates
Research at Bodleian's Special Collections: ILAB booksellers can now apply for the Peter Selley Fellowship & Interview with current fellow Dr Philip W. Errington
The Peter Selley Fellowship provides support for a member of the rare book trades to carry out research in the special collections of the Bodleian Libraries. Applications are also open for all ILAB booksellers. We used the occasion and spoke to current fellow and first recipient of this fellowship, ILAB bookseller Dr Philip W. Errington, on his work, discoveries at the Bodleian and why this fellowship programme can make a real difference to a bookseller doing bibliographical research.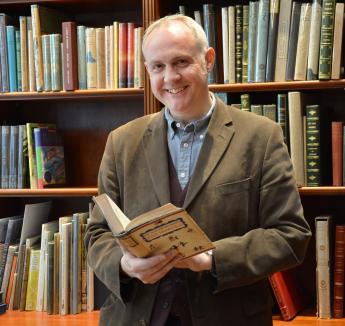 The Peter Selley Fellowship for Members of the Book Trades
The Peter Selley Fellowship provides support for a member of the rare book trades to carry out research in the special collections of the Bodleian Libraries. Applicants must be pursuing a career in book or manuscript auctions or the antiquarian book trade. The fellowship honours the memory of Peter Selley, a rare book specialist and auctioneer who worked at Sotheby's in London for 28 years. If you are eligible for this award, please indicate this clearly in your CV.
Eligibility note: Open to members of the book trades.
Deadline: 1 May 2023
Interview with Dr Philip W. Errington
We interviewed Dr Philip W. Errington, senior specialist at Peter Harrington, and the first recipient of this fellowship to gain a little insight into this research opportunity and discover a little about what he chose to investigate.
WHY DID YOU APPLY FOR THE SELLEY FELLOWSHIP?
When I was told that the family of Peter Selley had decided to endow a fellowship in his name at the Bodleian Library in Oxford it struck me as a perfect opportunity both to remember a former colleague and undertake some work which I'd long postponed.
YOU WORKED WITH PETER SELLEY?
Yes; for over 21 years. Peter was a very special colleague when I worked in the department of printed books and manuscripts at Sotheby's. He was always acutely aware of the value of scholarship and research within the rare book world. He was keen to assist academic enquiries about property at Sotheby's and always supported me in my extra-curricular research. Within Sotheby's Peter was happy to share projects and encourage everyone. I particularly remember the arrival of John Gielgud's library at Sotheby's and Peter suggested that, as I had an interest in the theatre, I should take on the project. Latterly, as auctioneers, we had fun deciding who should take various parts of a sale. He was far more experienced and, let's face it, far better than I was. Yet he encouraged me to preside over some high-profile lots and I learned a great deal. When we worked out that one of us would have the opportunity to sell the last lot in the old Sotheby's book room (before refurbishment turned it into a gallery), Peter insisted I should do it. I've no idea why, but it was great fun!
WHAT IS YOUR RESEARCH TOPIC?
It's really a continuation of my obsession with the author John Masefield. After a PhD on the author, I've never really stopped. There's a perception that research is carried out by academics in universities, but what I find inspiring about the Selley Fellowship is that it allows members of the book trade an opportunity to join an academic research environment. There's a huge amount of knowledge and research that is known and undertaken by members of the book trade and this fellowship will encourage and enable this. Peter started his career in the book trade with Rick Gekoski before moving to the auction world. It's entirely fitting that this fellowship should be open to members of the book trades.
WHAT ARE YOU RESEARCHING AT THE BODLEIAN?
When John Masefield died in 1967, the Harry Ransom Center at the University of Texas acquired many of his manuscripts. However, a significant number of papers were also deposited at the Bodleian. There are just under 140 boxes of these and for many decades these have been unavailable to scholars. I first obtained permission from the Masefield family to consult the papers in 2003 and the only available guide was a handwritten account in the library's acquisition ledger. In 1997 the Bodleian reported to the Masefield Estate that 'work on the Masefield collection has never progressed beyond the preliminary stage'. For decades, therefore, I have been aware of this resource but without an opportunity to work on it. I therefore proposed the production of a detailed description of these 'forgotten papers' as a fellowship project.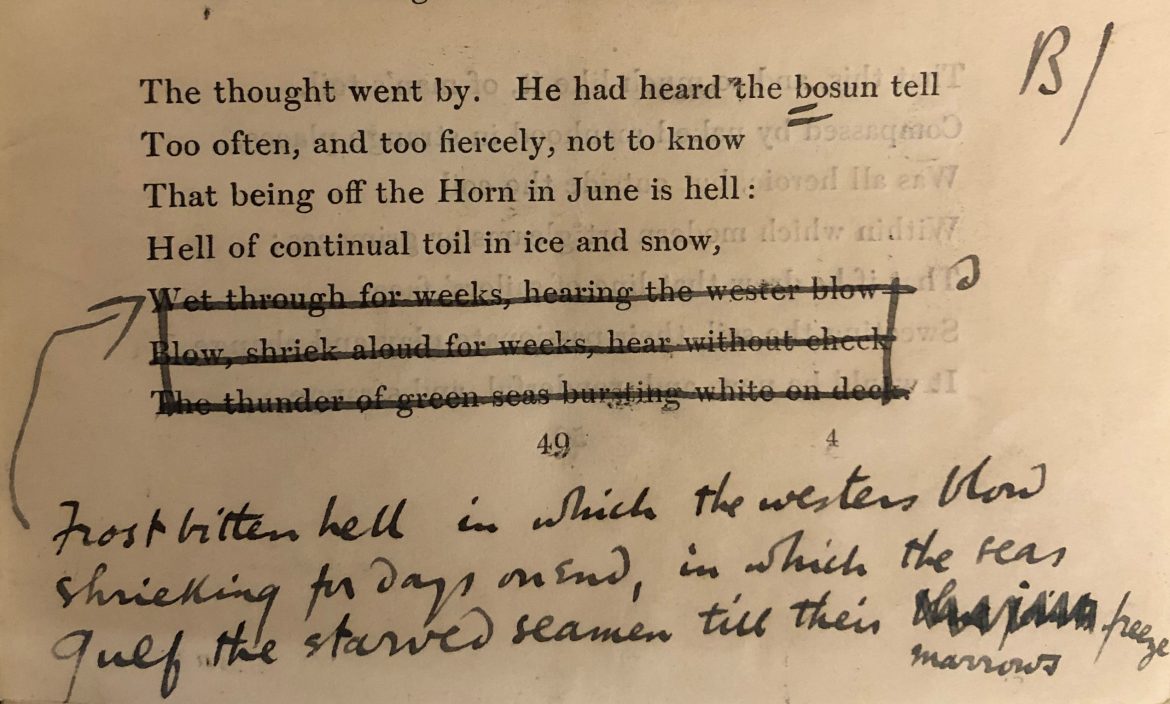 HAVE YOU MADE ANY PARTICULAR DISCOVERIES?
There are early poems in these papers that date from the time of Masefield's first published book. Masefield, it seems, had some sense of posterity; one notebook is introduced with the note "t
he poems in this book were written at odd times between January, 1902 and my marriage in July 1903, mostly perhaps at Wolverhampton, in Gresham Chambers, or at the Wergs Farm at Tettenhall…" Early verse from the time of 'Sea-Fever' is always good to have!
There are a number of random notebooks which Masefield appears to have used at the earliest stage of writing. It's fascinating to him switching from translations of Homer to Christmas verse, to a speech for The Society of Authors and then, presumably, Laureateship duties to write something for Liverpool Cathedral. There's an immediacy about these and a real sense of the heat of creative energy.
I'm particularly pleased to have discovered Masefield's lecture notes on a variety of different topics (these include William Morris, Nelson, Shakespeare's theatre, Chaucer, William Blake, Anson, Macbeth and, of course, 'Poetry' in general).
There are also the random letters, clippings and other assorted pieces that give a real sense of Masefield's office. There is, for example, an invitation to the Queen's Coronation in June 1953, a letter from George Yeats (on the death of W.B. Yeats), tax enquiries, contracts, galley proofs, miscellaneous bills, photographs, programmes, typescripts from which printers set text, etc. One of the most interesting current discoveries is an autograph letter from Margaret Bridges to Masefield, dated 31 July 1914. The letters from Masefield to Margaret Bridges were published in 1984. It was, however, thought that none of the other side of the correspondence survived. Obviously at least one example does. What I find interesting is that Masefield used the sheet of paper to start his First World War poem, 'August, 1914'. During the war Masefield frequently included this poem in his public recitations and on at least one occasion he was so overcome with emotion that he had to stop and leave the poem unfinished. In later life he did not allow inclusion of the poem in poetry anthologies. It seems on this new evidence that Masefield may have associated this poem with Margaret, one of Robert Bridges' daughters who died her thirties of tuberculosis.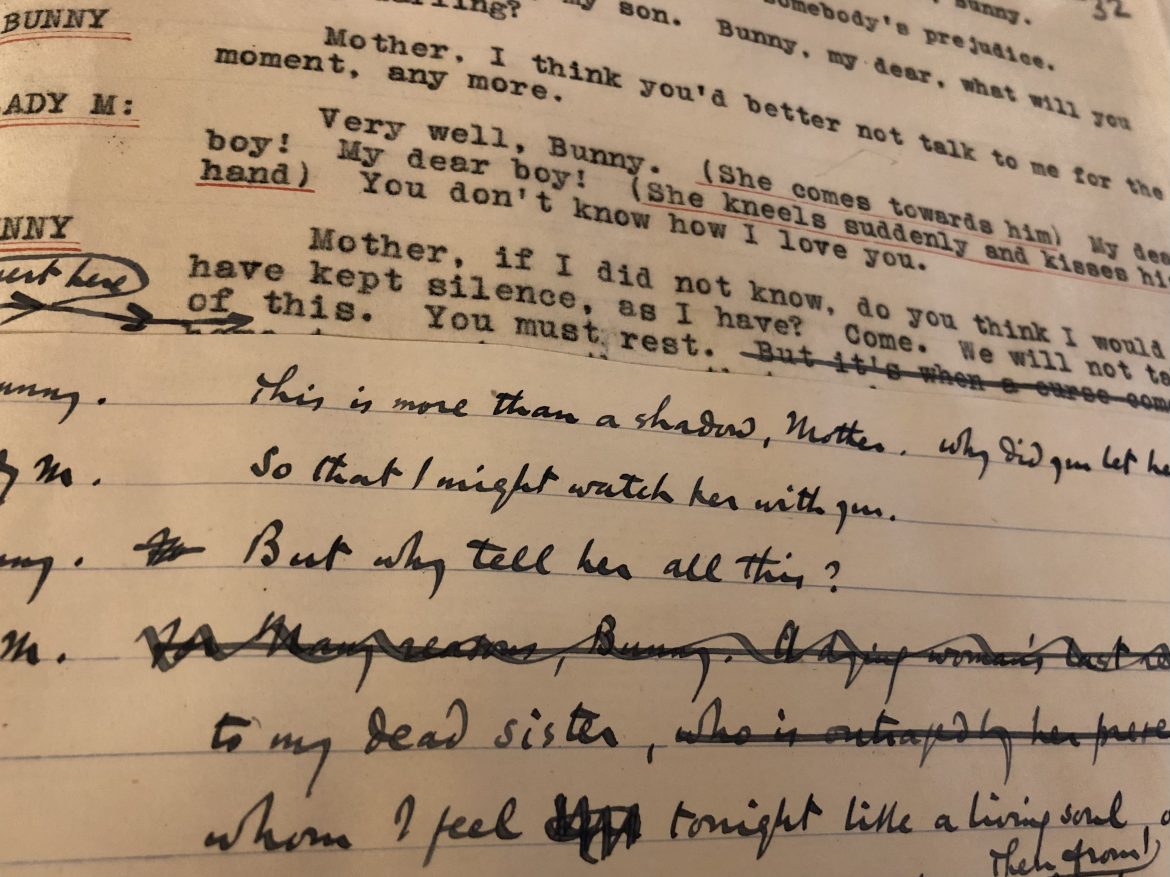 HOW OFTEN DO YOU GET TO THE BODLEIAN?
I'm a full-time member of staff at Peter Harrington but when time allows I book a day's holiday and pop up to Oxford. My award is for up to £1,800 and I can claim for travel to and from the library, accommodation in Oxford, and meals purchased during my visits. So far I've managed quite a number of single day trips and a couple of nights in a hotel. There are some conservation problems with some of the material and, given the delays this is causing, the Bodleian extended the period of my fellowship to the end of January 2024. I must work out some more research days soon.
WOULD YOU ENVOURAGE COLLEAGUES IN THE TRADE TO APPLY?
Absolutely! If the Bodleian's collections could assist with your research, it's a perfect opportunity to undertake work with a structure and budget attached. I've found that I'm usually able to tailor a project to a given timeframe and, knowing I've got a deadline on this, is very motivating. Work out how the Bodleian could support you and apply!
For more information about fellowships at the Bodleian, please follow >> THIS LINK