Paris is a feast! The book trade returns to real fairs
A much-anticipated preview with one of the world's most iconic backdrops, the Salon du Livre Rare opened its doors last night with a vernissage in the no less impressive, interim venue, the Grand Palais Éphémère.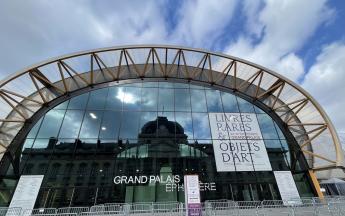 The French antiquarian booksellers' association, SLAM, did not only have to overcome the difficulties of organising a fair for a second time in a pandemic and with ever changing regulations but also moved venue, due to renovations at its usual fair venue.
But despite all these obstacles, the fair opened its doors last night to a long queue of eagerly waiting visitors at a very well attended vernissage in a wonderful atmosphere.
The public fair has opened today and 200 exhibitors look forward to welcoming customers at this long-awaited return to real fairs.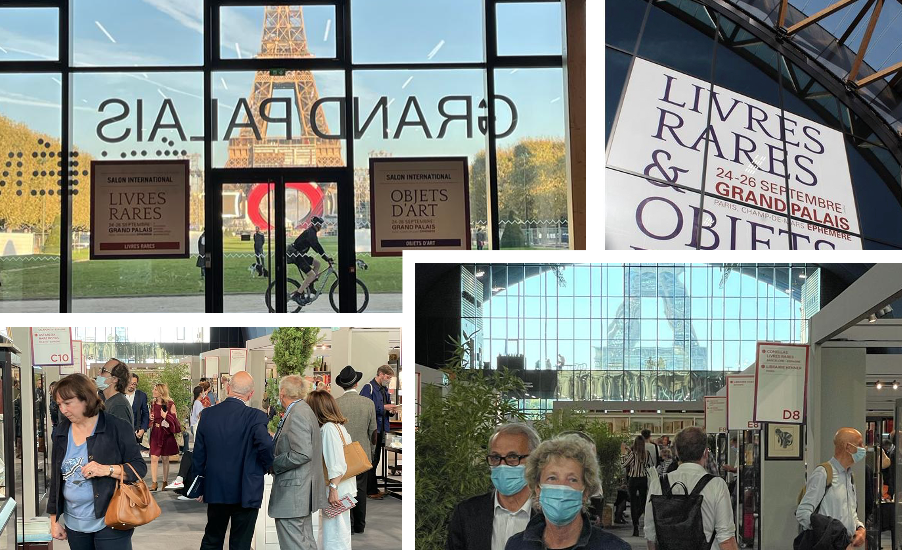 "Thank you for participating, this year more than any other, in the essential annual meeting for the community of printed heritage, autographs and prints: the Salon du Livre rare & des experts en objets d'art, which takes place in this new and majestic monument facing the Eiffel Tower.
This event is awaited by all of us, booksellers, gallery owners, experts, and for all of you, enthusiasts, collectors, institutions, museums or simply lovers of beautiful books, moving autographs or beautiful art objects...
Take your time to stroll through the aisles of the Grand Palais Ephemere: you are sure to come across the exceptional and the curious, the emotional and the pleasurable.", writes Hervé Valentin, President of SLAM, the Syndicat National de la Librairie Ancienne et Moderne, in the welcome note of the printed catalogue which can be accessed online here:
>>> VIEW ONLINE VERSION OF PRINTED PARIS CATALOGUE HERE <<<
E-Livres Rares: The virtual fair accompanying the "real" fair
If you are unable to attend the fair in Paris, the organisers have also arranged for a "digital showcase", allowing exhibitors but also online-only exhibitors to bring their stock to Paris in a virtual way.
The virtual fair is now open and can be accessed HERE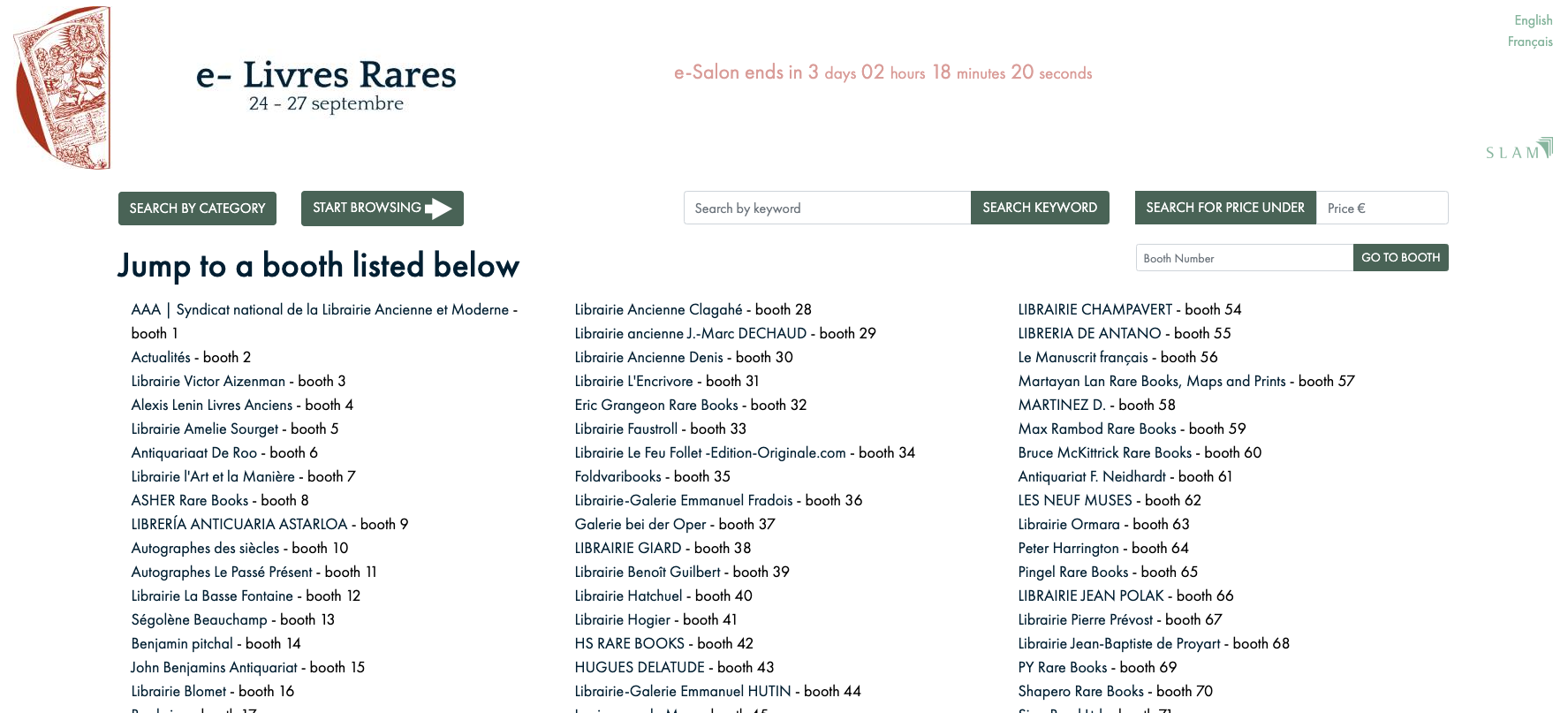 The organisers hope to see many of you in Paris this weekend.
And if you cannot be in Paris, follow the salon's social media or enjoy the many wonderful items listed in the virtual fair.
"Paris est une fête! Et doit le demeurer!"
Website: https://salondulivrerare.paris...
Exhibitor Listing: https://salondulivrerare.paris...

Instagram: salondulivrerare
Virtual Fair: https://amorlibrorum.getmansvi...