Introducing the scholarship winners for the 2022 ILAB Congress: Raphaël Thomas (France)
From 9 - 14 September, booksellers will finally be able again to gather at the much anticipated ILAB Congress in Oxford. We will introduce the booksellers who won a scholarship to attend this unique event in the rare book trade. Our heartfelt congratulations to Raphaël Thomas from Rennes, France.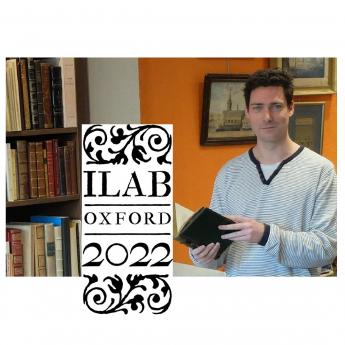 Raphaël, how did you start working in the rare book trade and what were your first encounters?
I was first a student at the École du Louvre in Paris where I studied history of Art (2001-2004). Then, after some different jobs and experiences, I worked in Paris with Jacques Desse (Les Libraires Associés), specialized in curious books, children books and pop-up books. After that, I worked with Alain Cambon (Paris, Quartier Latin), who specializes in antique and rare books, Jansenism and architectural drawings. In 2016, I left Paris for Rennes and I opened my own bookshop.

What do you specialize in and please describe your business a little to us?
I specialize in Breton regionalism (Breton = from Brittany, the French region around Rennes, and where we eat crèpes!), books and historical and regional curiosities, and I followed what I learned to Alain Cambon by publishing catalogs of architectural drawings.
Jacques Desse and Alain Cambon are my two sponsors and mentors in SLAM (Syndicat de la Librairie Ancienne et Moderne).

I work with a regional clientèle, whom I present my themed catalogues and I exhibit my books at several Parisian book fairs (at the Grand Palais since 2019). The London book fair (Firsts) in September after the Congress will be my first fair outside France.

What do you do if you are not pre-occupied with rare books?

I share my life with my wife, Cécile, who is a curator for historical monuments in Brittany. We have two lovely children, two boys, 2 and 4, who take a lot of our time, and a cat!

I am very grateful to ILAB to have invited me to the Congress and I am very glad (and a bit proud) to participate in it.
My thanks go to Sally Burdon, Stuart Bennett, Angelika Elstner and other members of the ILAB committee, and to Hervé Valentin, who suggested to me to apply for this scholarship when he was President of SLAM. I was censed to go to the Amsterdam Congress two years ago. I am very pleased that my scholarship has been transferred to the Oxford Congress.


A portrait of Raphaël Thomas was published earlier this year on the website of the French antiquarian booksellers' association, SLAM, see original article HERE.
L'attrait du livre ancien
Le hasard de belles rencontres et une fascination depuis très jeune pour le livre en tant qu'objet m'ont amené à devenir libraire. Après des études d'histoire de l'art et quelques stages dans des galeries d'art, j'ai trouvé un premier emploi où je vendais en open space des affiches anciennes sur Internet. J'ai ensuite eu la chance de travailler avec Jacques Desse, chez les Libraires associés, d'abord aux Puces, Marché Dauphine, puis dans la grande et étonnante librairie de la Goutte d'Or. J'y ai appris à rédiger des fiches, y ai découvert le catalogue comme art et y ai vécu mes premières grandes aventures de libraire : le catalogue « De la Jeunesse chez Gallimard : 90 ans de livres pour enfants » (Prix de la Bibliographie 2009) et la découverte de la photographie sur laquelle figure Arthur Rimbaud à Aden. J'ai ensuite poursuivi mon apprentissage dans le VIe arrondissement, quand Alain Cambon m'a accordé sa confiance. J'ai travaillé six ans dans sa librairie de la rue Monsieur le Prince, découvrant d'autres facettes du métier. Six ans d'une collaboration qui avait tout d'une école de la librairie ancienne. En parallèle, je commençais à acheter des livres et à les déballer une fois par mois environ au marché Brassens. Jacques Desse et Alain Cambon sont naturellement mes deux parrains au Slam. En 2016, des raisons personnelles m'ont amené à quitter Paris pour m'installer à Rennes, et j'y ai ouvert ma librairie.
Le régionalisme breton et les dessins d'architecture
En arrivant en Bretagne, j'ai vite remarqué que les Bretons, fidèles à leur réputation, sont particulièrement attachés à leur histoire et à leur région. Je me suis alors progressivement spécialisé dans le régionalisme breton. J'ai publié deux catalogues par an de livres sur la Bretagne et de curiosités bretonnes, en cherchant à garder un équilibre entre livres anciens, classiques historiques, livres illustrés, linguistique et livres en breton, coutumes, légendes, plaquettes d'archéologie, en y ajoutant quelques dessins, tableaux et objets. En plus de cette spécialité passionnante, j'ai toujours tenu à continuer à proposer des livres, anciens et modernes, dans tous les domaines, en aiguisant ma curiosité au fur et à mesure de mes découvertes. En parallèle — dans le prolongement de ce que faisait Alain Cambon, et avec son approbation — je propose des dessins et documents d'architecture originaux, à travers un catalogue par an. Je les présente également aux institutions et collectionneurs au salon du Grand Palais depuis 2019.
Des documents rares
Je présente actuellement (du 5 février au 7 mai 2022) un catalogue et une exposition « Rennes + 1922 », faisant écho à l'exposition du musée des Beaux-arts de Rennes : « Rennes 1922, la Ville et ses artistes de la Belle Époque aux Années folles ». On peut donc voir en ce moment à la librairie un grand décor sur Isorel de l'artiste rennais Louis Garin, représentant le Palais de Justice et l'Hôtel de Ville de Rennes. D'autre part, j'ai acquis récemment une très intéressante aquarelle représentant la construction du Pont de Joinville à la fin du XVIIIe siècle. Un dessin original montrant la construction d'un tel édifice à cette époque avec ses différents corps de métiers en action est passionnant et peu commun. J'ai également acquis dernièrement une exceptionnelle correspondance d'environ 150 cartes postales et lettres autographes signées du chansonnier breton Théodore Botrel à l'abbé Millot. Ce sont ce genre de découvertes qui m'animent : présenter des documents qui nous apprennent, qui enrichissent les connaissances dans un domaine. Cela fait vibrer l'ancien élève de l'École du Louvre que je suis. J'aime dans l'ancien ce qui résonne aujourd'hui et éclaire l'avenir si l'on prend la peine de s'y attarder. Parfois, la survivance de certains documents anciens et modernes, que les libraires mettent en valeur, peut nous offrir de doux anachronismes, d'apparence légère et amusante, mais qui sont bien plus riches d'enseignement que toute évidence contemporaine.
La librairie hors les murs
Dans les premières années de ma carrière, j'ai présenté mes livres dans plusieurs salons du Grand Ouest, à Caen, Redon, Angers, Le Mans, Orléans… Actuellement, je ne fais plus que les salons parisiens : « Bibliomania », « Olympe de Gouges », la place Saint-Sulpice et le Grand Palais. J'espère retourner bientôt vers des salons de province, notamment ceux de Lille et Colmar et, pourquoi pas, dans un avenir proche, exposer sur des salons à l'étranger. J'ai aussi comme projet potentiel, à moyen terme, d'ouvrir une boutique plus grande. Je vais continuer à développer mes deux spécialités que sont le régionalisme breton et les dessins d'architecture et poursuivre la publication de catalogues papier à l'heure du numérique, tout en dirigeant la librairie vers d'autres domaines. J'ai plusieurs idées en tête. À suivre…
Librairie Raphaël Thomas

14 rue du Docteur Francis Joly
B.P. 70614
35006 RENNES cedex
www.librairie-raphael-thomas.com
[email protected]