News & Updates
Introducing the new ILAB President & Committee
On 9 September 2022, the presidents of ILAB's member associations met at the 2022 ILAB Presidents' Meeting in Oxford and elected a new ILAB President and committee.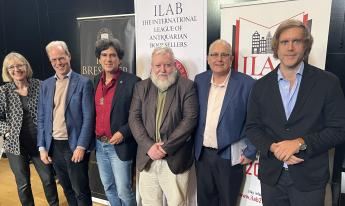 Image above: ILAB Committee as of 9 September. From left to right: Sally Burdon, Mats Petersson, Mario Giupponi, Angus O'Neill, Scott DeWolfe, Nicolas Malais. (not in the picture: Christopher Bailey, Philipp Penka)

During the ILAB Presidents' Meeting 2022, a new ILAB Committee was elected.
Officers:
- Mario Giupponi, President
- Angus O'Neill, Vice-President
- Christopher Bailey, Treasurer
- Sally Burdon, General Secretary

Committee Members:
- Mats Petersson
- Nicolas Malais
- Philipp Penka
- Scott DeWolfe
Mario Giupponi was voted unanimously by all presidents to serve as ILAB President.

ILAB thanks its outgoing committee members Stuart Bennett and Anne Lamort for their longstanding service.

Please do not hesitate to contact any member of the committee or the ILAB Secretariat at any time. You find our full contact details here: https://ilab.org/page/committee