News & Updates
ILAB-sponsored stands at book fairs - Apply now for Paris 2022!
Are you a young or recently established bookseller and wish to exhibit at an ILAB affiliated fair? Use the opportunity of an ILAB sponsored stand!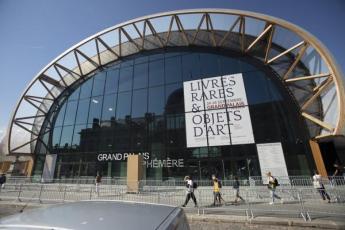 As the rare book trade returns to physical book fairs, ILAB has proposed an initiative to all ILAB book fair organisers to sponsor a joint booth for new or recently established booksellers. Following the London fair FIRSTS, the Salone della Cultura in Milan and the California Antiquarian Book Fair, the organisers of the Paris Rare Books & Graphic Arts Fair (Salon du Livre Rare) have now called for applications.
This ILAB-initiative will be extended to all ILAB book fairs worldwide taking place in the coming months and other organisers have expressed an interest to provide this booth. However, this is a once-off campaign.
Paris Rare Books & Graphic Arts Fair - Salon du Livre Rare Paris from 23 - 25 September 2022
As in 2021, this major rendez-vous for collectors, amateurs and the curious, will take place at the Paris Grand Palais Ephémère, a temporary structure which houses the most emblematic Parisian cultural events while the Grand Palais itself is closed for renovations.
Perfectly situated between the Ecole Militaire and the Eiffel Tower, the building fits elegantly into the prestigious Champ-de-Mars site and is easily accessed by public transport.
This is a great opportunity to show your stock at the major French rare book fair, meet new customers and expand your network.
The Syndicat National de la Librairie Ancienne et Moderne, Organiser of the Fair, invites ILAB booksellers who have never participated in the Paris Fair before, to register for this stand provided free of charge by the League.
CONDITIONS :
10 m2 shared stand for 3 exhibitors who have never participated in the Paris Fair, reserved in priority for booksellers from abroad.
Surface: 10 m2 (4 x 2,5 m), n° H17 in the Eiffel wing.
Booth allocation: 3 bookshelves, 1 double glass-case, 1 rectangular table, 3 chairs, 1 rail of 3 spotlights( (see attached booth layout).
It is of course possible for exhibitors to order additional furniture at their own expense if necessary.
All requests must be sent to the Organiser before 31 May 2022, please email: [email protected]
For more information about the Paris fair, please visit the website HERE.