News & Updates
ILAB announces sessions and speakers at the 2022 Symposium in Oxford
Register now to attend a day of discussion on some of the complex and challenging issues faced by those working with antiquarian books and related rare materials today.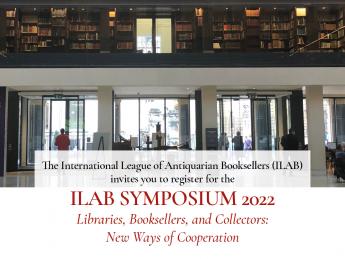 ILAB has great pleasure in hosting another symposium examining issues affecting the world of antiquarian books today.
Following the very successful symposium held at the Grolier Club in New York in 2019, we gather in the great city of books and learning, Oxford!
We are very grateful to the Bodleian Library for providing the Weston Library Lecture Hall as our venue for the 2022 symposium.

A diverse and very knowledgeable group of booksellers, collectors, government representatives, librarians and law enforcement officers have agreed to share their views on some of the complex and challenging issues faced by those working with antiquarian books and related rare materials today.
We look forward to welcoming all interested in antiquarian books to this day of discussion. Early booking is advised, as places are limited.
Sessions & Speakers
Welcome by Deborah Coltham, ABA Vice-President and Deborah Coltham Rare Books, UK (Moderator of the symposium)
Session 1
Where do books belong? Competition & Cooperation between Private and Institutional Collecting
Many institutional libraries have been able to add a great number of rare books and manuscripts to their collections over the past few decades in particular. At the same time, a number of important historic materials have joined the private collections of influential collectors. Depending on the specific contexts of acquisition, these developments raise a number of questions about the roles of private collectors and institutions – and the interactions between them – in the ecosystem of the wider book world.
Should all historically important materials be accessible to scholars? Is it in the best interests of society if donations to institutional libraries are encouraged by tax incentives? Should unique and historically important books and manuscripts remain in (or return to) their country of origin? How does the competition for the most valuable items at the top of the rare book market shape the present and future of book collecting? How can (or should) private collectors and libraries work together? These and other questions will be discussed by four panellists who bring international perspectives and varied experiences to these themes.

Speakers:
Dr. Christopher Fletcher, Keeper of Special Collections, Bodleian Library, UK
Dr. Anke Timmermann FLS, Type & Forme Rare Books & Manuscripts, Grantham, UK
Patrick Olson, Patrick Olson Rare Books, US
Dr. William Zachs, Antiquary
Chair: Stuart Bennett, ILAB General Secretary and Stuart Bennett Rare Books, US
Session 2
Changes & Challenges: Navigating the tricky waters of the international movement of antiquarian books in the 2020s
Antiquarian booksellers but also librarians and private collectors constantly experience the consequences of the increasingly severe legal restrictions of jurisdictions in their countries of residence, the European Union, the post-Brexit UK, UNESCO and others. Trade bodies have raised concerns regarding the impact of the resulting burden of administration for their members for many years.
How can the trade petition for a balanced approach by governments that would allow antiquarian booksellers (and parts of the art trade) to trade internationally while respecting the governments' efforts to preserve and protect cultural goods?
This session will see a discussion between representatives in the arts market and government as well as rare booksellers presenting practical case studies, on the implications of the various policies and directives recently imposed on the trade.

Speakers:
Ivan Macquisten, ImacQ, UK: Commentator, analyst, and campaigner in the international art market
Mario Giupponi, ILAB Vice-President and Studio Benacense, Italy
Andrew Gaub, Bruce McKittrick Rare Books, US
Pierre-Jean Riamond, Head of Special Collections Department at the Book and Reading Service, French Ministry of Culture, Paris, France
Chair: Sally Burdon, ILAB President and Asia Bookroom Canberra, Australia
Session 3
Collaboration, Communication, Transparency: Security affects all
The rare book trade, libraries and private collectors are all concerned about a safe environment in which to trade, buy and protect antiquarian books and related materials.
Case studies from the Metropolitan Police London and Cambridge University Library have demonstrated how joint efforts by the trade, libraries and law enforcement can lead to the successful recovery of missing books; how it is possible to overcome a perceived stigma when reporting missing material and that collaboration with the international network of ILAB-affiliated booksellers is useful for the dissemination of information.
The example of proactive work against the trafficking of antiquarian materials in the Middle East and Arab regions initiated by the Qatar National Library will allow further insights into international security projects.

Speakers:
Dr. Andy Durham and David Ward, Detective Inspectors, Metropolitan Police London, UK, Insights into the investigation that led to the successful recovery of the books and convictions in 2020 following the West London warehouse thefts in 2017
Dr. Jessica Gardner, University Librarian and Director of Library Services at University of Cambridge, UK, an international appeal by Cambridge University led to the return of the missing Darwin notebooks in April 2022
Stephane Ipert, Director of the Heritage Library (Distinctive Collections) at Qatar National Library: Himaya: a regional programme to counter trafficking of oriental manuscripts in the Arab region and the Middle East
Angus O'Neill, Omega Bookshop, UK and ILAB Security Officer and Angelika Elstner, ILAB Executive Secretary:
Presentation of the ILAB Missing Books Register
Chair: Angus O'Neill


Session 4
Awards Ceremony of the 18th Breslauer Prize for Bibliography 2022
The world's leading prize honouring outstanding work in the field of bibliography and book history, sponsored by the International League of Antiquarian Booksellers with the generous support of the B. H. Breslauer Foundation, will be awarded in the final session of the ILAB Symposium.

Introduction by Yann Sordet, Director of the Mazarine Library Paris and of the Institut de la France
Chair: Fabrizio Govi, Libreria Govi, Italy and ILAB Prize Secretary