End of Year 2021 - Welcome to some new booksellers in the ILAB community Part 4 of 9: Inna Lepp of Sounds of Forest, Tallinn – Estonia
As the year draws to an end, we look back at 2021 and we spoke to a selection of booksellers who joined the ILAB community in the course of last year.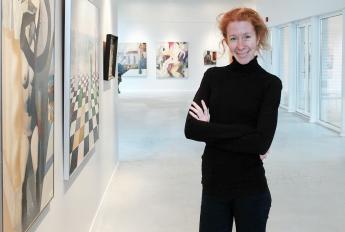 What triggered your interest in rare books and becoming a rare bookseller?
I had been working in the financial and accounting field for quite a long time, before I came into a book trade. While on maternity leave, my husband encouraged me to try and work from home and sell a collection of old Estonian books, which I had inherited from my grandmother. So, I started to sell on AbeBooks, where I got my first serious buyer. After that, I expanded on old books published in other Baltic states.
What do you deal in?
I deal in any kind of noteworthy books - beautifully designed, nicely illustrated, covering uncommon themes, rare, etc. Especially I like the books printed on old cheap thick brown paper, they give a unique spirit of antiquity.
Do you specialise?
Today major areas of expertise include first editions of Baltic, Scandinavian and Russian modernist literature and art publications pre-1940, also published in a small edition, rare books which are not found in the largest world's libraries holdings.
Buying and selling rare books is more than just a job, it is often a passion and a lifestyle. What do you love most about your work?
Most of all I like opening parcels with newly acquired items, it is so exciting…the emotion is similar to what children are feeling while opening up their Christmas presents.
The ILAB Mentoring Programme gave me a lot of support as a new member. I have learned much new about various helpful resources for antiquarian booksellers and received answers to all my questions and I thank my good mentor Philipp Penka.
May I also take this opportunity and express my thanks to the people, who greatly helped me to become a member of ILAB - my friend Pat Polansky, Timo Surojegin and Cecil Hagelstam from the Finnish Antiquarian Booksellers' Association.
When the world opens up again, where will you go?
I miss Sicily, the unique combination of natural beauty, cultural attractions, gregarious and friendly people, and very delicious food.