News & Updates
CABS-Minnesota Goes Virtual for 2021 & Registrations are now open!
After a one-year, pandemic-inspired hiatus, CABS-Minnesota (formerly the Colorado Antiquarian Book Seminar) is back — this time in virtual format — for 2021.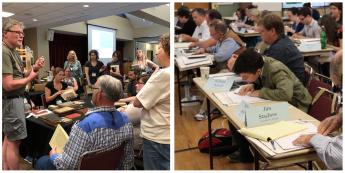 The Seminar will take place via Zoom from Sunday, August 15 to Thursday, August 19. Tuition for CABS Virtual is $500, and includes all course materials. Enrolment will be limited to 75 students. The registration deadline is August 1st, but the organisers expect this year's seminar to fill up very quickly; if you want to skip the details below and sign up now, HERE is a link to the registration page on the CABS website

Lorne Bair of the CABS faculty writes:

"Naturally, going virtual was not our first choice — but it was one made for us by the dictates of current CDC guidelines and the needs of our host institution, St. Olaf College. We heartily look forward to returning to live format in 2022; meanwhile, we've put together a terrific program of intensive on-line instruction for 2021, with all our regular faculty returning. Our Keynote Speaker is Mark Dimunation, Chief of the Rare Book and Special Collections Division of the Library of Congress; Andy and Marcee Nettell, proprietors of Back of Beyond Books in Moab, Utah, will deliver the Specialty Dealer lecture. We've been working since the first of the year to optimize content for on-line presentation, and we're very confident that CABS Virtual will offer a rich and unique learning and networking experience – different from the live version, but with strengths all its own. We hope the substantially lower cost of tuition, the ability to attend without traveling, and the expanded class size will make this iteration of CABS accessible to a whole new group of students who may not have been able to attend in the past."
The organisers have announced that a generous number of scholarships is available, including a number of awards set aside for BIPOC applicants and others from traditionally underrepresented communities.
More information on scholarships can be found HERE; some scholarships are still being updated, please check the site again over the coming weeks.
For all questions concerning scholarships, the courses, schedule and registrations, please contact Kathy Lindeman via www.bookseminars.com.
Lorne Bair can be contacted directly via email and is also available for all further questions: lorne@lornebair.com
The 44th Annual Antiquarian Book Seminar, 2021
Now in its 44th year, the Antiquarian Book Seminar provides an opportunity for leading specialists to share their expertise and experience with booksellers, librarians, and collectors in a comprehensive survey of the rare book market, both antiquarian and modern. Basic procedures and problems are discussed both formally and informally through a series of lectures, discussions, demonstrations and practical hands-on workshops with emphasis on the internet, computers and internet book selling, as well as traditional methods.
The Antiquarian Book Seminar is designed for people of all levels of experience, from beginners to those with years of experience who want to hone their skills in this rapidly changing field. Those who have taken the course before will note that all lectures have been updated, new faculty added and additional computer and software demonstrations included. If you seek to meet the challenges of book selling in the 21st century, the Antiquarian Book Seminar will provide an intensive opportunity to meet and network with others of like interest.
PROGRAM HIGHLIGHTS
Finding Books
Evaluating and Pricing Books
Reference Tools for the Book Trade
Writing Effective Book Descriptions
Buying and Selling Online
Buying and Selling at Auction
Buying and Selling Archives and Collections
Setting Up and Using a Bookseller Database
Marketing and Building a Customer Base
Creating Your Own Website
Creating a Catalog
Operating a Profitable Open Shop
Selling Books to Libraries
Selling Books on Consignment
Fakes, Forgeries and Theft