News & Updates
Book your seat at the 2022 ILAB Symposium!
Libraries, Booksellers, and Collectors: New Ways of Cooperation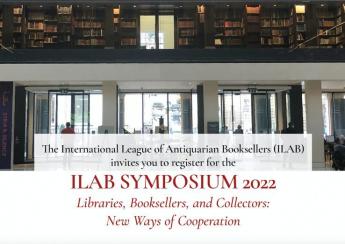 Wednesday, 14 September 2022; 10h – 17h
Weston Library (Bodleian Libraries), Oxford
Session 1
Where do books belong? Competition & Cooperation between Private and Institutional Collecting
Session 2
Changes & Challenges: Navigating the tricky waters of the international movement of antiquarian books in the 2020s
Session 3
Collaboration, Communication, Transparency: Security affects all
Session 4
Awards Ceremony of the 18th Breslauer Prize for Bibliography 2022
To view the full programme and list of international speakers, please >> follow this link

Tickets at GBP25 are limited and subject to availability.
The Symposium will be held the day after the 2022 ILAB Congress; bookings are handled separately.
Please register your interest with the ILAB Office: secretariat@ilab.org
Registrations are open to all booksellers, librarians and bibliophiles.

Disclaimer: The remarks of each speaker are solely their own and reflect their personal views and do not necessarily reflect and are not intended to reflect the views of ILAB and any of its individual members, officers or affiliates.