All ILAB booksellers are invited to next ILAB Networking Talk - 21 Nov 2023
Join ILAB for the next ILAB Mentoring Programme networking session which is open to ALL booksellers: We welcome Daša Pahor and Alexander Johnson from Munich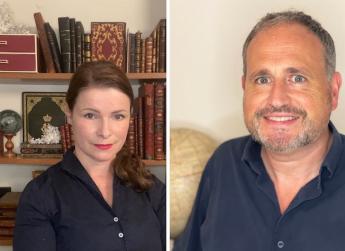 After the very interesting networking session in October with Lorne Bair, we have the pleasure of welcoming Daša Pahor and Alexander Johnson to another edition of our talks.
Daša and Alexander of Antiquariat Daša Pahor will share their insights and advice with booksellers at the beginning of their careers and those interested in becoming a rare bookseller or furthering their careers.

The event is free of charge and also open to all ILAB booksellers not currently enrolled in the mentoring programme.

Daša and Alexander will be in conversation with Philipp Penka and will be glad to answer questions from the attendees of the meeting.
We look forward to seeing many of you soon!

DATE & TIME
Please register for the event on 21 November 2023 at the following times:

8am New York / Toronto
1pm London
2pm Berlin / Amsterdam / Paris / Rome / Stockholm / Copenhagen
10pm Tokyo / Seoul
11pm Brisbane


REGISTRATION LINK

When: Nov 21, 2023 01:00 PM London
Register in advance for this meeting:
https://us02web.zoom.us/meeting/register/tZMlfuigrzMuH9HabG0qfkFsdOxp8lbj66zg

After registering, you will receive a confirmation email containing information about joining the meeting.
ABOUT

Antiquariat Daša Pahor was established 17 years ago, in Munich, Germany, and specializes in sourcing and researching unusual, unique and academically significant maps, books and archives, and providing them to libraries, museums and private collectors. As a member of ILAB, Daša and Alexander are pleased to count many leading institutions, on five continents, as regular customers.They have regularly exhibited at major events such as the New York Antiquarian Book Fair, Firsts London, Frankfurt Book Fair, Stuttgart Antiquarian Book Fair, London Map Fair, Paris Map Fair, Mantua Map & Print Fair, Milan Map Fair, Amsterdam Antiquarian Book Fair, and the Warsaw Art Fair.

Offices are located in the charming Schwabing neighborhood of Munich.

Daša Pahor (*1977 in Slovenia) specializes in cataloguing and curating books and maps relating to the Ottoman Empire, Middle East, Slavic languages, Central Europe and items connected with data visualization and the history of art.
Daša holds a PhD in the History of Art from the University of Ljubljana, focusing upon 16th and 17th century architecture in Central Europe. She has also authored several peer-reviewed articles, and during her archival research into 16th century sources in German language she developed an interest in antiquarian books. As a keen flea market goer since her teenage years and a collector of mid-century Yugoslav design and vintage clothing, going into antiquarian books did not seem like such a leap.
After attending German and International antiquarian book fairs for several years, both as a private collector and as an assistant to professional book dealers, Daša founded Antiquariat Daša Pahor, in Munich, in September 2006.
Daša is also the company's business manager, and she will be happy to answer all e-mails and attend to orders.

Alexander ("Alex") Johnson (*1977 in Toronto) holds a PhD in History from the University of Exeter, England. His doctoral thesis became the basis for a ground-breaking book on scientific cartography in the U.S.A. and Canada, The
First Mapping of America: The General Survey of British North America (London: I.B. Tauris, 2017).
Alex's career in the antiquarian world began at Christie's, London, in 2005, where he conducted the research for the sale of the Waldseemüller Globe Gores (1507), the 'Birth Certificate of America,' and a world auction record for a single-sheet printed map. He subsequently held positions with leading dealers in New York and California.
Alex has spearheaded several international projects and curated museum exhibitions on historical cartography in the United States, United Kingdom and India. He has also authored several academic articles, most notably as part of The History of Cartography, Volume 4: Cartography in the European Enlightenment (2020).
In September 2014, Alex joined his wife, Daša, at Antiquariat Daša Pahor, where his main fields of expertise are maps, books and archives regarding the West Indies & Latin America, South and East Asia and Sub-Saharan Africa.