Librairie Le Trait d'Union
Contact

Catherine Pierrang


Address

168A AVENUE PIERRE BROSSOLETTE
Troyes, F-10000
France

Opening Hours

From Monday to Friday: From 09:00 am to 18:00 pm
Saturday RDV

Phone

Email

Website
Founded in 1995, 25 years later, we are now, one of the most important bookshop on the human sciences erudition on the european market, with a stock of more 100 000 books (from antiquariat to the present publications).
Specialities
Archeology
Architecture
Art
Bibliography
Classics/Antiquity
Economics
Other Specialities
Erudition: Archeology - Fine Arts - French History - Human Sciences - Linguistic - Religious Sciences - Exact and Natural Sciences.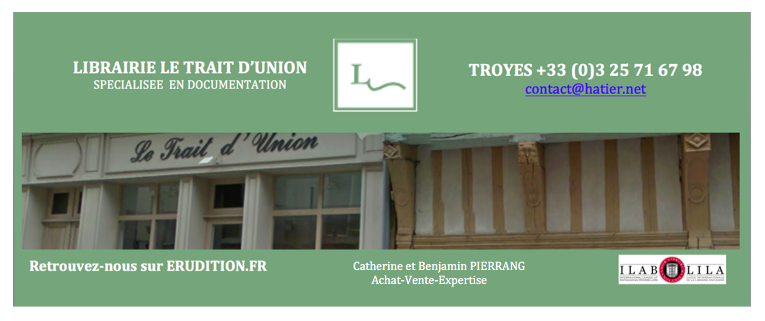 Librairie Le Trait d'Union's Catalogues
Sales Information
- We accept payment by VISA or MASTERCARD. We need the full number (16 digits) and the expiry date. These informations will be destroyed after the order has been fulfilled. - We accept the payments only in EUR. Overseas customers paying by check must add 15 EUR to cover bank fees. - By wire transfer to our bank account. We give the IBAN (International Bank Account Number) informations to the customer, when we have the order gotten. - We accept money order in EUR. The books are available to purchase has been accurately and rigorously described. The possible defects are mentioned. We accept returned books only if they differ from their description. The Tribunal of Troyes shall have jurisdiction over any disputes between us.