Contact

Ryu Sato

Address

3-26-3, Ogawamachi, Kanda, Chiyoda-ku
Tokyo, 101-0052
Japan

Opening Hours

From Monday to Friday: From 11:00 am to 20:00 pm
Saturday: From 11:00 am to 19:00 pm

Saturday and National Holidays : From 11:00 am - 07:00 pm

Phone

Fax

(03) 3291-5001

Email

Website
At Kagerou Bunko we strive to provide customers with high-quality rare illustrated books and prints.

Based in Japan, we specialize in rare Japanese illustrated books, prints, and pride ourselves on our positive relationships with many collectors, bookstores, and other customers.

We have a medium-sized stock of rare books, mainly illustrated books and children`s books from before the twentieth century. Please do not hesitate to contact us by email if you have any requests or questions.

We look forward to hearing from you!
Specialities
Art
Illustrated books
Manuscripts
Old and rare books
Photography
Artists' Books
Japan
Other Specialities
Design, prints and drawings, Japanese prints, children`s books, illustrated books, twentieth century illustrated books, paintings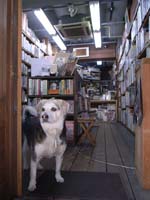 Kagerou Bunko's Catalogues