Contact

Aaron Beckwith
Hélène Golay

Address

657 C Street SE
Washington, DC, 20003
United States

Opening Hours

Monday thru Friday: 10am - 8pm
Saturday: 9am - 8pm
Sunday: 9am - 7pm

Phone

Email

Facebook

Twitter

Instagram

Capitol Hill Books is a used bookstore located on historic Capitol Hill in Washington DC, with three floors of quality used books, first editions and rare books.
In the summer of 2018, a group of long-term employees purchased the store from Jim Toole. More information about the transition can be read here.
We are located directly across from Eastern Market, two blocks from the Eastern Market metro stop and just a short walking distance from the United States Capitol, The Library of Congress, and The Supreme Court. Please click here for Driving Directions to our store.
If you are searching for a particular book, please stop by the store, and we'll help you find it. We have a small staff, a constantly changing inventory and a shop that's sometimes bustling with bibliophiles, so thank you for understanding we are not always able to assist with book searches via email or phone.
We have many, many more books in the store than are listed on our website. To get a real taste of everything we have to offer, we recommend that you come in for a visit. We have fiction books in the Fiction Room, mystery books in the Mystery Room, foreign language books in the bathroom, cookbooks in the kitchen on the kitchen sink, business books in the Business Closet, and a Weird Section for those who like witches, dreams, and things that go bump in the night. We also have books on history, philosophy, travel, Washington DC, theology, psychology, politics (of course), art and more.
History
The store was founded by Bill Kerr who had worked at an earlier Capitol Hill bookstore, Wayward Books. He would take his pay in books and when Wayward closed up and moved to Maine, Bill opened Capitol Hill Books in 1991. He lived upstairs and worked downstairs in the store, while also holding down a job at The Washington Post. He died at age 58 from a heart attack in November 1994 and his sister sold the bookstore to, Jim Toole in February 1995.
Specialities
Old and rare books
Ephemera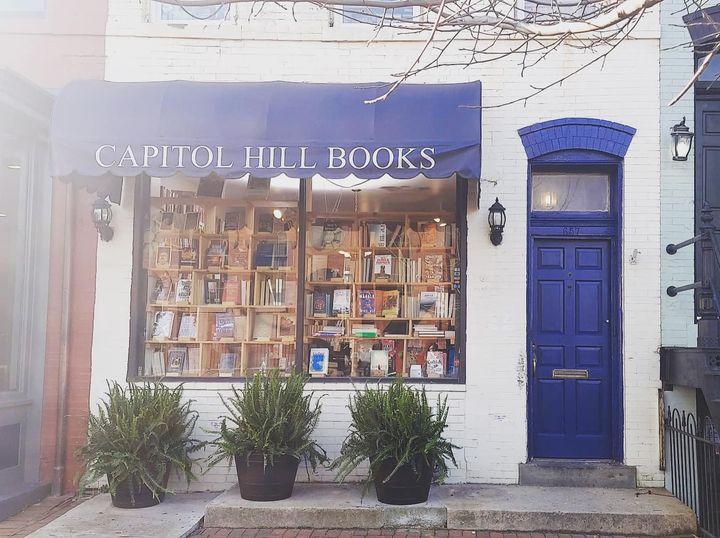 Sales Information
Payment by check or money order (please make out to "Capitol Hill Books"). VISA, MasterCard, Discover, American Express, and Paypal (aaron@capitolhillbooks-dc.com) also accepted. All books subject to prior sale. New customers may be asked to prepay. Libraries, institutions, and established customers and dealers may request invoice. Reciprocal courtesies offered to the trade. Books may be returned for any reason within thirty days of receipt, through prior arrangement, and in original condition. Unless books received are not as described, however, all postage to be paid by buyer. We ship via USPS, and rates can be quoted ahead of time if needed. We also ship books out of the store. Most orders are shipped within two business days. International shipping is generally $25, dependent upon specific location and the nature of the book. Additional shipping charges will be quoted before being sent.