Contact

Alex Day
Nicholas Poole-Wilson
Edmund Brumfitt
Donovan Rees
Andrea Mazzocchi

Address

36 Bedford Row
London, WC1R 4JH
United Kingdom

Opening Hours

From Monday to Friday: From 09:00 am to 18:00 pm

Phone

Fax

+ 44 (0)20 7297 4866

Email

Website

We have been buying and selling rare books and manuscripts since 1847. Our founder, Bernard Quaritch, was born in 1819 at Worbis, a small town near Göttingen in Germany. After working for booksellers in Nordhausen and Berlin, he set off for London in 1842, aged 23.
In fifty years Bernard Quaritch had built up the most extensive enterprise in antiquarian books in the world. His interests within the field were wide: natural history, fine arts, periodicals, oriental learning, travels and archaeology came within his span; but he was known above all as a dealer in incunabula, fine manuscripts, Bibles, liturgies, early English literature, Shakespeareana, cartography, Americana, and historic bindings.
On his death in 1899 The Times wrote "It would scarcely be rash to say that Quaritch was the greatest bookseller who ever lived. His ideals were so high, his eye so keen, his transactions were so colossal, his courage so dauntless, that he stands out among men who have dealt in old literature as a Napoleon or a Wellington stands out among generals".
The company's centenary was celebrated in 1947 at 11 Grafton Street, and its 150th anniversary in 1997 (by now at Golden Square, our premises until September 2009) was marked by a special issue of The Book Collector with articles about the history of the firm.
Quaritch was one of the founding members of the Antiquarian Booksellers' Association, which was founded in 1906 and is the oldest professional body of its kind in the world.
Specialities
Architecture
Early printing
Literature
Manuscripts
Science and technology
Social sciences
Travel
Other Specialities
Art, Architecture, Economics, Philosophy, English, European Literature, Early Printing, Islamic World, Natural History, Science & Medicine, Photography, Travel, Manuscripts, Music, Politics, Law, Human Sciences, Archives, Valuations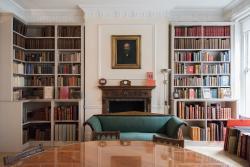 VAT Number: GB 322 4543 31