Contact

Ivan Efimov

Address

30/7 Petrovka str.
Moscow, 127006
Russian Federation

Opening Hours

Monday to Friday: 10am to 6pm

Phone

Email

Website

Facebook

Instagram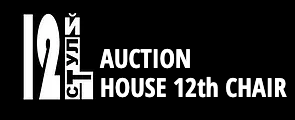 The auction house "12th CHAIR" was founded in 2016 by a group of professionals who have been successfully working in the antique market for over fifteen years.

"12th Chair" specializes in handling outstanding collections and collections. Among the works: the Archive of the gunsmith Fedor Tokarev, the Decembrist relics, the jewelry of Lyudmila Zykina, the scripts of Andrei Tarkovsky, the archive of the People's Commissar Lunacharsky, the Decembrists' relics, the graphic archive of the Vkhutemas artists.
Specialities
Autographs
Manuscripts
Old and rare books
Twentieth century
Russia
First Editions
Other Specialities
Important archives