The Salon du Mont des Arts in Brussels returns!
After years of disruption during the pandemic, the Belgian rare book fair can return to the sought-after location in the heart of the city.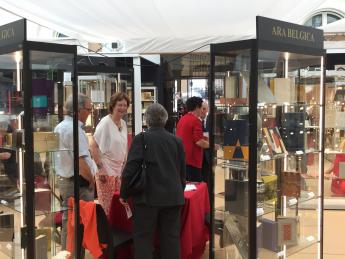 After a longer pause due to the pandemic, the Salon du Mont des Arts, the Belgian rare book fair, can finally take place again.
Organised each year by the Chambre Professionnelle Belge de la Librairie Ancienne et Moderne (CLAM-BBA) under the auspices of the International League of Antiquarian Booksellers (LILA-ILAB), it is the leading fair in the country, much anticipated by book and print collectors.

The salon is named after the cultural district surrounding the "Mont des Arts" in Brussels, a vibrant and enchanting hub of artistic and intellectual pursuits. Nestled in the heart of the city, this area offers a rich tapestry of cultural experiences that seamlessly blend the past with the present. The Mont des Arts itself, with its meticulously manicured gardens and breathtaking views, serves as a picturesque backdrop for the district. Here, visitors can immerse themselves in a diverse range of museum and exhibitions, from classical and contemporary art exhibitions at the Royal Museums of Fine Arts of Belgium, to performances at the Théâtre Royal de la Monnaie. The district is also home to the Music Instruments Museum and the Place Royale, which boasts historical landmarks like the Royal Palace of Brussels and the Brussels City Museum.
The Belgian antiquarian booksellers' association has found a unique location, well-suited for a rare book fair.

Some forty booksellers and gallery owners from France, the UK, the Netherlands, Spain, Hungary, Switzerland and Belgium have signed up for the 2023 edition, showcasing their bibliophile treasures.
Among the items on display: an exceptional copy in period colours of Voyage pittoresque dans les Pays-Bas by M. de Cloedt (Laurent Coulet, Paris),
an original etching by Goya (Palau Antiguetats, Barcelona),
a binding with the coat of arms of the Duchess of Orléans (Anne Lamort, Paris),
the extremely rare folio edition of Little Red Riding Hood by Edgard Tytgat (Librairie Clavreuil, Paris),
Ecce Homo by George Grosz (Erik Tonen, Antwerp),
a signed lithograph by Emile Claus (Pictura Prints, Overasselt),
original engravings by James Ensor and Pieter Breughel (Lex Antiqua, Wellen),
an original drawing by George Barbier (Sur le Fil de Paris, Paris),
and works by Privat-Livemont (Galeries Le Tout Venant and Ma Maison de Papier, Brussels).

Art Nouveau will be featured by several participants.

Guest of honour: ARA Belgica (Les Amis de la Reliure d'art) with an exhibition of contemporary bindings. Info: www.clam-bba.be
The 2023 Salon welcomes ARA Belgica (Les Amis de la Reliure d'art) as Guest of Honour, who showcase an exhibition of contemporary bindings.
For all information about the fair, please visit: www.clam-bba.be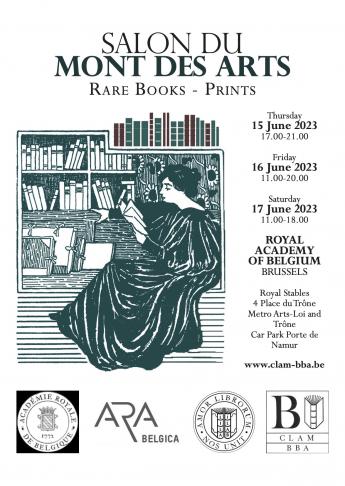 Images and text: Angelika Elstner
Highlights images supplied by CLAM-BBA