Actualités
Pre-1830 European material, a love for hand-press and languages or "I inquired with a rare book dealer and he hired me on the spot"
Introducing Patrick Olson, scholarship winner for the 2022 ILAB Congress.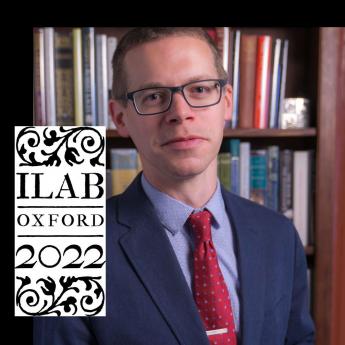 How did you start working in the rare book trade and what were your first encounters?

In college I wondered if I might fashion an interest in old books into some kind of career. I inquired with a rare book dealer and he hired me on the spot. For four years I cataloged inventory, sold books to foot traffic, and prepared offers for anyone selling material. I then went to library school in search of geographic mobility, which set off a 10-year employment tour of several universities. When my wife accepted a job near Boston in 2018, I leapt at the chance to return to my trade roots and go into business for myself.

What do you specialize in and please describe your business a little to us?

I focus on pre-1830 European material, and principally non-English. I love the hand-press period and I love languages. So this slice of the book trade seemed to offer the greatest opportunity to add value to material through research. I most enjoy working with the popular and ephemeral, those fleeting printed vestiges of everyday life. I can't resist compelling evidence of use, nor anything that smacks of the alteration or repacking of early print. The more unusual, the better. I work primarily with American institutional libraries, which invariably influences my descriptions. I aim to provide a little research-based context and interpretation, just enough to allow anyone, with a moment's notice, to put my unfamiliar material before an audience and have something to say. I know what it's like to be responsible for collections I haven't had time to investigate.

What do you do if you are not pre-occupied with rare books?
It's summer, so I've been slicing a lot of melon and watering lots of plants. Our old house keeps us busy with its own needs, and our three cats with theirs. I'm also a strong believer in hobbies. I've loved spending time in the mountains since I was kid and it still defines most of my vacations -- alpine skiing, climbing, backpacking. I've gotten into woodworking these last few years, and recently started dabbling in bonsai. If I can keep my little jade alive for a year, I'll permit myself to get another tree. Fingers crossed!

Patrick Olson Rare Books
74 Wentworth Avenue
Lowell, MA
01852978-806-3364
patrick@olsonrarebooks.com
olsonrarebooks.com