Actualités
Much ado about... Shakespeare! 400 years since the publication of the First Folio (Part 1 of 3)
The First Folio is one of the great wonders of the literary world. Published in 1623, seven years after the death of its author, it was the first printed edition of Shakespeare's collected plays. Various literary institutions, theatres and book fairs around the world will celebrate this anniversary over the coming months.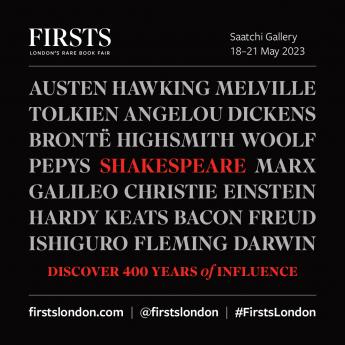 We start with our very own, ILAB-sanctioned London fair, FIRSTS who just launched its theme for the fair, taking place from 18 - 21 May in London's Saatchi Gallery: "Shakespeare: 400 years of influence"
In choosing a theme for Firsts London 2023, it would have been hard to ignore the 400th anniversary of the publication of Shakespeare's First Folio. Arguably the most influential work in the English language, the 36 plays compiled in the First Folio contain plots, characters, and motifs which form the bedrock of the Western literary canon, resurfacing endlessly in adaptations, references, and echoes at every level of culture. With an incredible wealth of material which spans centuries and continents, exhibitors attending Firsts London are uniquely placed to demonstrate the breadth of Shakespeare's influence on the printed word, which has explicitly and implicitly shaped many of the stories we tell about ourselves, and the language we use to tell them.
The wide-reaching marks of Shakespeare's pen take us to some unexpected places: from the plot devices of Jane Austen to the poetry of Maya Angelou; from a mobile forest marching to war over the plains of Middle Earth to the tercentenary celebrations of Shakespeare's life held across the Arab world in 1919. This year's fair gives exhibitors the chance to showcase items which bear the bard's inky fingerprints, however faint. As Nelson Mandela said (referring to the copy of the Collected Works that was his companion throughout his 18-year incarceration on Robben Island), "Shakespeare always seems to have something to say to us."
We hope to hear it through the extraordinary books, manuscripts, and works on paper that will appear at Firsts London this year.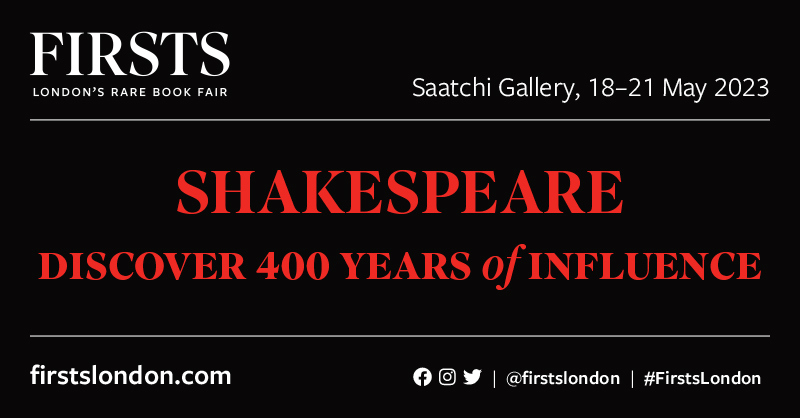 For more information about the fair, please go to the FIRSTS WEBSITE.
Over 9