Joint Catalogue published by the Australian and New Zealand booksellers
The booksellers of ANZAAB have just published a 2020 Joint Highlights Catalogue!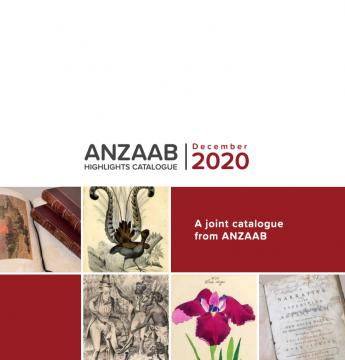 Dear friends,
The booksellers of ANZAAB are delighted to present you with our Highlights Catalogue for December, an outstanding showcase of some of the treasures selected from our members' shelves and picture rails.
This catalogue is full to the brim with heritage Australiana, modern literature, fine art, exquisite manuscripts and more; it is a wonderful reflection of our members' diverse interests and areas of expertise.
This year has forced all of us to face challenges we never dreamed of, and of course we will have more to overcome in 2021. We reflect on those who have endured hardship and loss during the global pandemic, and pay tribute to those who have worked at the front line to protect us against this silent foe.
Despite lockdowns, closed borders, erratic postal services and many other trials, we booksellers have remained committed to our love of our books and indeed to our customers, who are after all the main reason we have chosen the path that we are all on. Even during the most difficult of times, our appreciation of antiquarian books does not diminish. If anything, we gain a deeper understanding of how significant this field can be in placing the narratives of our own lives into historical perspective.
We miss seeing our customers, but know that this is for the best, as we must all do our part in keeping this virus in check. Take the time to enjoy the books on your shelves and the art on your walls; take another look at these things and remind yourself of how special they are. We are privileged as booksellers to be the temporary custodians of these things, but it is you, the collector who will gain real value from them every day.
Enjoy this catalogue as a celebration of our shared love of books, and perhaps you will find something precious which deserves a place in your home.
Amor librorum nos unit - the love of books unites us.
The catalogue can be viewed and downloaded here
Please keep in touch with us: we are all working hard to continue unearthing new collections, and would love to know how you are faring and in what way we can be of help.
Last, but not least, we would also like to introduce to you our newest member, Malcolm Moncrief-Spittle of Renaissance Books in Dunedin, an experienced bookseller with a wide range of interesting travel books, New Zealand and Maori history and many other rewarding finds as well.
Stay safe and happy collecting,

Douglas Stewart
ANZAAB President