Establish new contacts or revive old ones
Sibylle Wieduwilt, President of the VDA discusses the upcoming virtual Stuttgart Rare Book Fair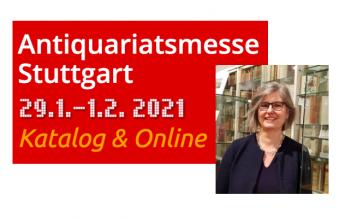 For all those who have not yet bought or browsed at any "virtual" or "online" book fair, how does it work?

Our so-called "virtual book fair" should at least be a small replacement for the real antiquarian book fair Stuttgart, which unfortunately will not take place next January. This means that the participants/exhibitors will upload up to 20 objects with up to 10 photos each on an online platform. The site will go live on 29 January at 12 noon, the usual opening of the fair, and will remain visible until 01.02.2021 at midnight, when it will be closed again like a real fair. As soon as the fair is open, i.e. accessible, you can start buying. In addition to a full-text search, it will be possible to search or browse for exhibitors and numerous subject areas. You can also click your way from stand to stand using a virtual floorplan. Orders can be placed directly by e-mail or of course by phone with the bookseller offering the objects.

How was the idea of a virtual fair perceived in Germany?

Due to the Corona crisis, which affected all areas of business, we too were forced to look for alternatives to a physical fair or event. Worldwide, numerous art and antiquarian book fairs have moved into virtual space and the success shows that at least the majority of customers support this approach. Antiquarian booksellers can thus present a part of their newly acquired goods and maintain in contact with their customers, who are often not located in the same region. Interestingly enough, numerous colleagues who have either no longer or never "physically" exhibited in Stuttgart have also registered for our catalogue and the online trade fair.
This gives everyone, customers and dealers alike, the opportunity to make new contacts or revive old ones, even though a virtual fair can of course never replace personal encounters in the real world and can only be a "consolation" for lost conversations or purchases/sales. A total of 76 dealers have registered at the virtual Stuttgart Rare Book Fair, including dealers from Australia, the USA, Great Britain, Switzerland, the Netherlands, France and Austria. This interest has shown us that the alternative path we have chosen is the right one.

Stuttgart is also planning an extended printed catalogue?

Like all German fairs, the Stuttgart Rare Book Fair has a unique characteristic over most international rare book fairs; every year the association publishes an extensive printed catalogue, which is sent out to customers, the press and colleagues in the trade. As we were sure that especially in times when physical encounters are not possible, a catalogue in which one can browse back and forth and which one can "grasp" haptically is a great advantage. The association further decided to extend the volume of the catalogue so that each participant will be provided with 4 pages to offer their most interesting titles and new acquisitions.

Will virtual book fairs replace fairs in the future?

No, you can't do that at all. A book fair thrives on personal encounters and the exchange between dealers and collectors. Apart from that, many of our visitors want to be surprised by the wide range of products on offer, discover new books, prints, autographs, etc., and then be able to physically see them. A virtual fair can only replace this to a very small degree, but of course it offers new and interesting possibilities in such an "emergency situation". For example, we renamed our book talks on the "Red Sofa", which we started in January 2020 in Stuttgart to "The Red Sofa Online" and moved the talks to the Internet. Talk series already started in October and are held leading up to the fair so that everyone can concentrate on the buying books during the actual virtual fair.

Despite all those efforts, we are already looking forward to the Stuttgart Rare Book Fair 2022, where we will celebrate the 60th anniversary of our fair with all our customers, friends and colleagues.
To access the upcoming 2021 Stuttgart Rare Book Fair, please visit: www.antiquariatsmesse-stuttgart.de